Atta halwa recipe, instant atta halwa, atte ka halwa recipe, atta kesari

Atta halwa recipe, instant atta halwa, atte ka halwa recipe, atta kesari is a quick and easy mouth-watering halwa made with atta/wheat.
I wanted to post some easy recipes like atta halwa recipe for Diwali but could not make it in time. It is a very easy and simple halwa. Even if you are a beginner in cooking, you can make this instant atta halwa recipe effortlessly. You also do not need any special ingredients for this recipe.

With just the basic ingredients, you can make this halwa in no time. Another version of wheat halwa/atta halwa needs a lot of preparation and time. I made this atta halwa/wheat halwa on thursday as Gj wanted to offer this halwa to the Malibu's temple. As I made this atta halwa for the offering, I made this halwa with lot of love and also carefully. I have tried many burfis and halwa recipes and posted it in my blog earlier, but this one is a super easy one to make. When you find time, try making this atta halwa. You will love it!
Other burfi and halwa recipes are:
kaju katli/cashew burfi
maida burfi
badam halwa
carrot halwa/gajar ka halwa
fruit kesari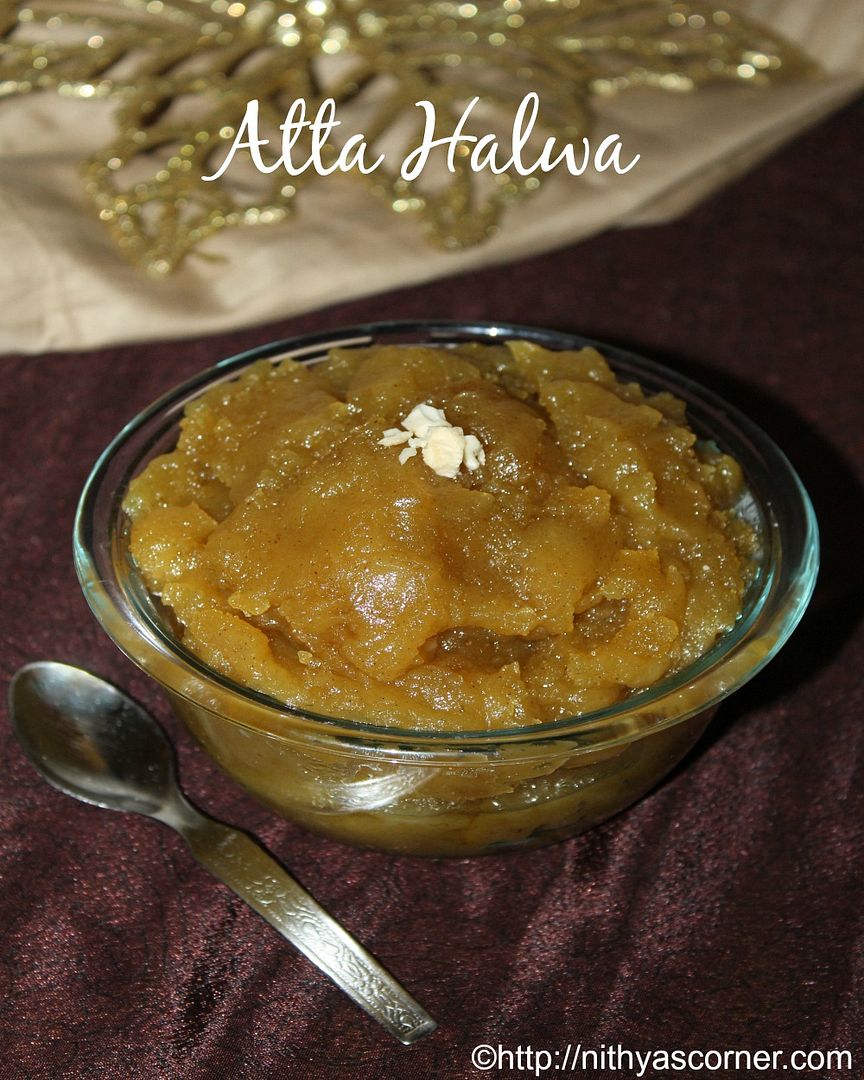 Preparation time. 2 minutes
Cook time. 10 minutes
Recipe category. Sweet
Recipe cuisine. Indian
Serves. 5
Ingredients
Wheat flour/godumai – 1 cup
Water – 1 and 1/4 cup
Sugar – 2 cups
Saffron color – 1/4 teaspoon
Cardamom powder/elakkai podi – 1/2 tsp
Ghee – 2 cups
Note. The ingredients shown will vary with the original quantity.
Preparation
1. In a mixing bowl, add wheat flour and a cup of warm water. Combine well.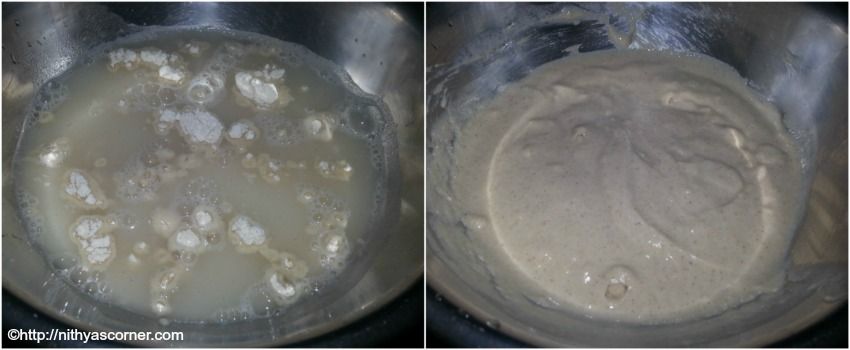 2. In a non stick pan, add sugar and 1/4 cup of water, and boil well to form a sugar syrup.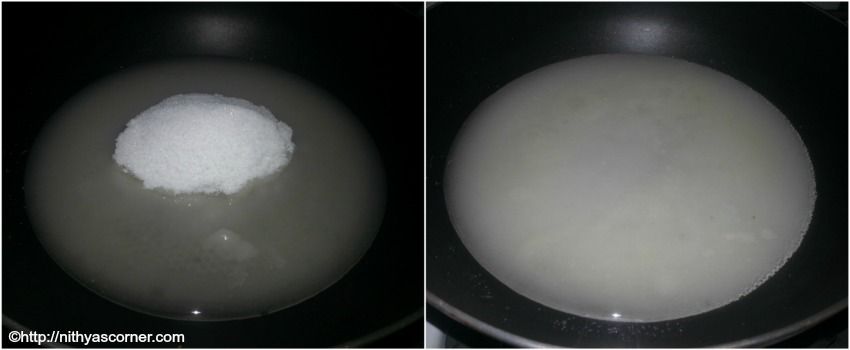 3. Keep boiling until you reach a one string consistency. A thin string is formed when tested between thumb and forefinger.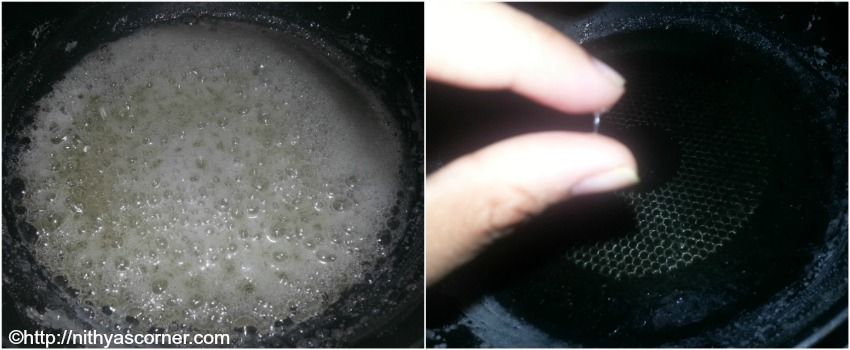 4. Once you reach an one string consistency, add wheat flour mixture. Stir well. Then add cardamom powder and saffron color.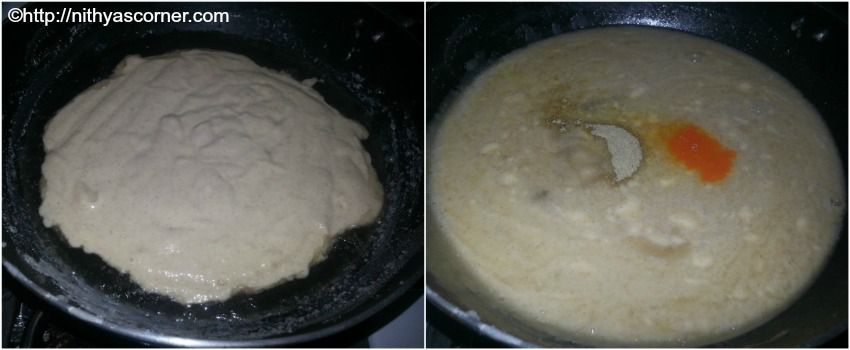 5. In medium flame, stir well and then add ghee. Make sure there is no lumps. Keep stirring well until the ghee blends with the wheat mixture well.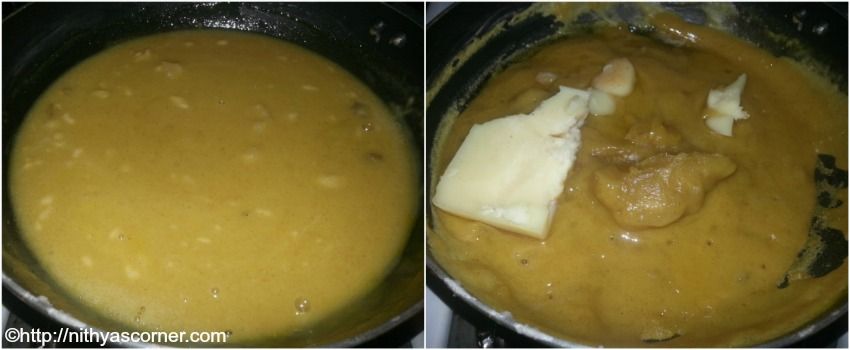 6. Once the wheat mixture start leaving the sides of the pan and the ghee starts oozing out, switch off the flame.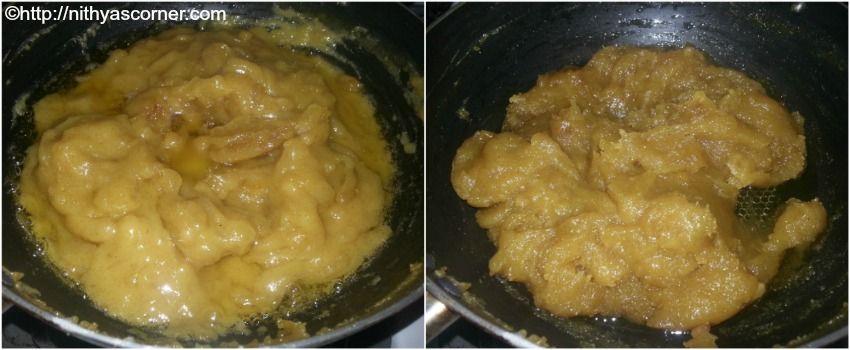 Now, atta halwa is ready! Serve hot.

Notes.
If you want you could add a pinch of salt to enhance the sweetness of the halwa.

You could also add nuts like almonds and cashew nuts.
Atta halwa recipe, instant atta halwa, atte ka halwa recipe, atta kesari recipe below:


Atta Halwa Recipe|Atte ka Halwa recipe|Atta Kesari

Atta Halwa Recipe, Instant Atta Halwa, Atte ka Halwa recipe, Atta Kesari is a quick and easy mouth-watering Halwa made with atta/wheat.

Ingredients

Wheat Flour – 1 cup
Water – 1 and 1/4 cup
Sugar – 2 cups
Saffron Color – 1/4 teaspoon
Cardamom Powder – 1/2 teaspoon
Ghee – 2 cups

Instructions

In a mixing bowl, add wheat flour and a cup of warm water. Combine well.
In a non stick pan, add sugar and 1/4 cup of water, and boil well to form a sugar syrup.
Keep boiling until you reach a one string consistency. A thin string is formed when tested between thumb and forefinger.
Once you reach an one string consistency, add wheat flour mixture. Stir well. Then add cardamom powder and saffron color.
In medium flame, stir well and then add ghee. Make sure there is no lumps. Keep stirring well until the ghee blends with the wheat mixture well.
Once the wheat mixture start leaving the sides of the pan and the ghee starts oozing out, switch off the flame.
Now, Atta Halwa is ready! Serve hot.

Notes

If you want you could add a pinch of salt to enhance the sweetness of the halwa. You could also add nuts like almonds and cashew nuts.

http://nithyascorner.com/atta-halwa-recipe/

©www.nithyascorner.com