Butter chicken masala recipe, murgh makhani

Butter chicken masala recipe, murgh makhani recipe. A popular and creamy indian gravy where chicken is cooked in tomato based gravy, cashew nut paste and rich blend of spices.
Butter chicken masala is a very popular recipe of India and it tastes so great with rotis. It has a mild flavor but rich in taste. My mouth starts watering whenever I even think about this dish.
Butter chicken masala is very similar to paneer butter masala, but this recipe is quite different from it.
Few years ago whenever we go to any Indian restaurants, the first dish we would order was butter chicken masala. Nowadays, I make this chicken Masala at home. It tastes very similar to what we eat in restaurants. Hope you all like it.
If you are looking for similar chicken curry recipes, then you might try: chicken salna, pepper chicken, and pepper chicken gravy.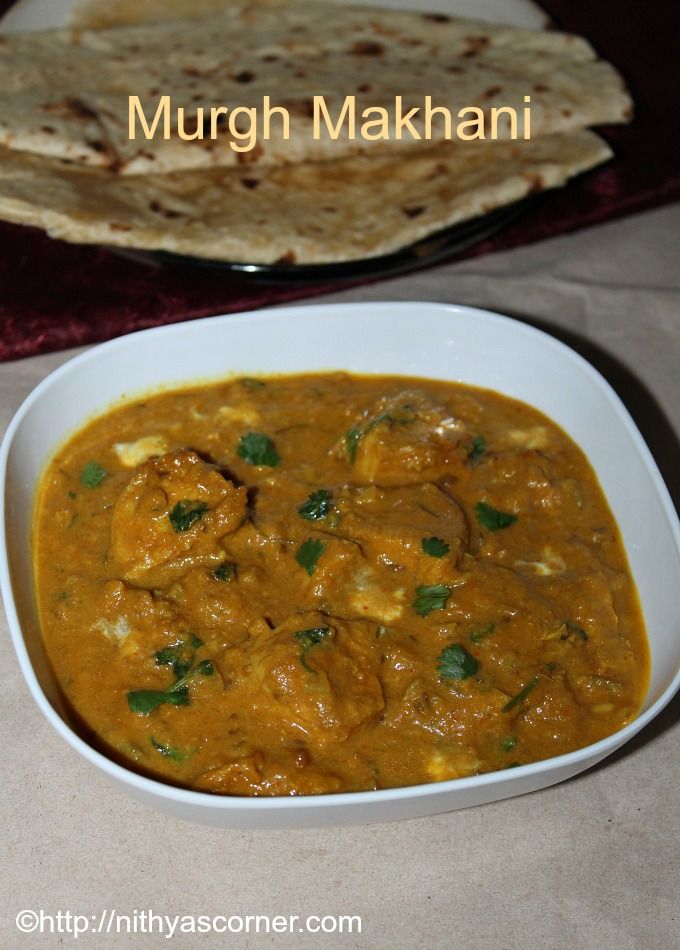 Preparation time. 15 minutes
Cook time. 45 minutes
Recipe category. side dish
Recipe cuisine. indian
Serves. 3
Ingredients
For marinade
Chicken (boneless, cubed) – 250gm
Ginger garlic paste – 1 and 1/2 teaspoon
Turmeric powder – 1/4 teaspoon
Kashmiri red chilli powder – 1 teaspoon
Salt – as required
For gravy
Butter or ghee – 1 tablespoon
Onion (chopped) – 2
Tomato – 1 no.
Milk – 1 cup
Shahi jeera/black jeeragam – 1 teaspoon
Ginger garlic paste – 2 teaspoon
Turmeric powder – 1/4 teaspoon
Chilli powder – 1 teaspoon
Coriander powder – 2 teaspoon
Garam masala powder – 1 teaspoon
Kasoori methi/dried fenugreek leaves – 1 tablespoon
Coriander leaves – 3 tablespoon
Fresh cream or pureed cashew paste (soak and grind cashew nuts) – 3 tablespoon
Sugar – 1 tablespoon
Salt – as required
Note. The ingredients shown will vary with the original quantity.
Preparation
1. In a large mixing bowl, combine chicken, ginger garlic paste, turmeric powder, chilli powder, and salt. The chicken should be well coated with the masalas. Prick the chicken using fork such that the chicken absorbs the masalas. Let the marinated chicken sit in refrigerator for thirty minutes.
Meantime, boil water and add the tomatoes and cook for about ten minutes until the tomatoes wilt. Let it cool down completely.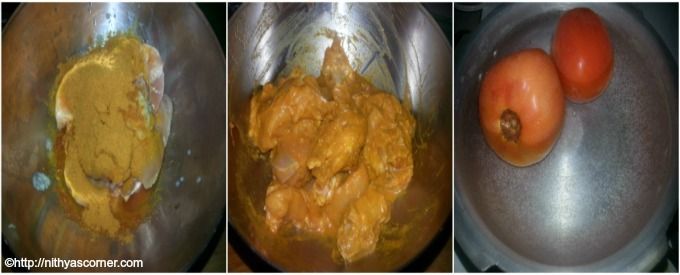 2. Once the tomatoes cool down completely, grind it to a fine puree. Heat the butter in a pan, add shahi jeera and let it splutter. Then add the chopped onions. Fry until onions turn golden brown.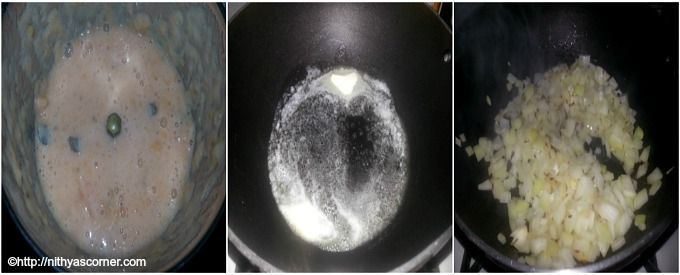 3. Now add ginger garlic paste, coriander powder, chilli powder, turmeric powder, salt and sugar. Stir well and cook for two minutes. Then add the tomato puree and cook for 3 to 4 minutes. Meantime, let us shallow fry the chicken. Heat oil in a pan, and then saute the chicken until it is half-cooked.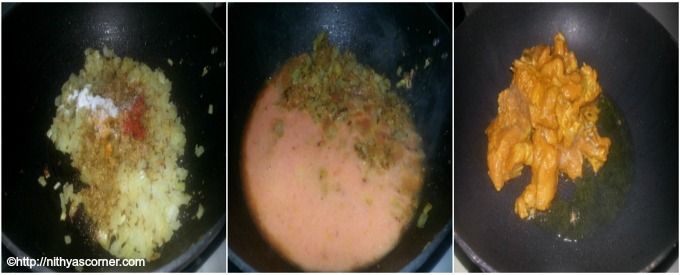 4. Once the chicken is half-cooked, set it aside. Now lets go back to the other pan in which the tomato paste is getting cooked. Now add the milk to the tomato mixture and cook for a minute.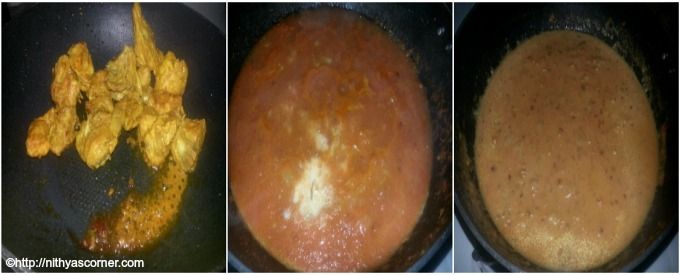 5. Simmer the flame, and cook the chicken pieces for 10 to 12 minutes. Once the chicken turns soft, simmer the flame. Then add the garam masala powder, cream and kasoori methi. Stir well and cook for a minute. Sprinkle coriander leaves.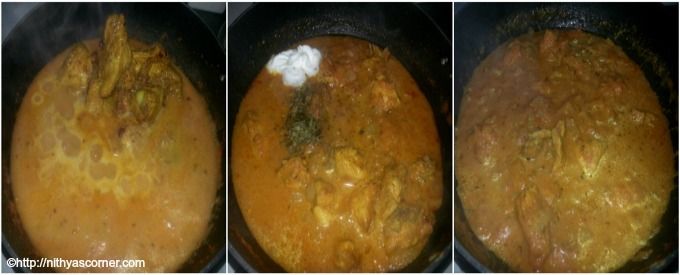 Now, butter chicken masala is ready! Serve hot with rotis and pulao.
Notes.
Instead of cream, you can add the cashew paste. Make sure you soak the cashews in little water and then grind it.
You can use kashmiri red chilli powder instead of chilli powder for better taste.
Once you add cream, do not boil it.
If the curry is thick, then add a cup of water at the time of adding milk.
Instead of butter and ghee, you can use oil.
Butter chicken masala recipe, murgh makhani recipe below:


Butter Chicken Masala Recipe | Indian Butter Chicken Masala Recipe | Murgh Makhani Recipe

Ingredients

For Marinade

Chicken (Boneless, Cubed) – 250gm
Ginger Garlic Paste – 1 and 1/2 teaspoon
Turmeric Powder – 1/4 teaspoon
Kashmiri Red Chilli Powder – 1 teaspoon
Salt – as required

For the Gravy

Butter or Ghee – 1 tablespoon
Onion (Chopped) – 2
Tomato – 1 no.
Milk – 1 cup
Shahi Jeera/Black Jeeragam – 1 teaspoon
Ginger Garlic Paste – 2 teaspoon
Turmeric Powder – 1/4 teaspoon
Chilli Powder – 1 teaspoon
Coriander Powder – 2 teaspoon
Garam Masala – 1 teaspoon
Kasoori Methi/Dried Fenugreek Leaves – 1 tablespoon
Coriander Leaves – 3 tablespoon
Fresh Cream or Pureed Cashew Paste (Soak and Grind Cashew Nuts) – 3 tablespoon
Sugar – 1 tablespoon
Salt – as required

Instructions

In a large mixing bowl, combine chicken, Ginger Garlic Paste, turmeric powder, chilli powder, and salt. The chicken should be well coated with the masalas. Prick the chicken using fork such that the chicken absorbs the masalas. Let the marinated chicken sit in refrigerator for 30 minutes. Meantime, boil water and add the tomatoes and cook for about 10 minutes until the tomatoes wilt. Let it cool down completely.
Once the tomatoes cool down completely, grind it to a fine puree. Heat the butter in a pan, add shahi jeera and let it splutter. Then add the chopped onions. Fry until onions turn golden brown.
Now add ginger, garlic, coriander powder, chilli powder, turmeric powder, salt and sugar. Stir well and cook for 2 minutes. Then add the tomato puree and cook for 3 to 4 minutes. Meantime, let us shallow fry the chicken. Heat oil in a pan, and then saute the chicken until it is half-cooked.
Once the chicken is half-cooked, set it aside. Now lets go back to the other pan in which the tomato paste is getting cooked. Now add the milk to the tomato mixture and cook for a minute.
Simmer the flame, and cook the chicken pieces for 10 to 12 minutes. Once the chicken turns soft, simmer the flame. Then add the garam masala, cream and kasoori methi. Stir well and cook for a minute. Sprinkle coriander leaves.
Now, Butter Chicken Masala is ready! Serve hot with Rotis and Pulao.

Notes

Instead of cream, you can add the cashew paste. Make sure you soak the cashews in little water and then grind it. You can use kashmiri red chilli powder instead of chilli powder for better taste. Once you add cream, do not boil it. If the curry is thick, then add a cup of water at the time of adding milk. Instead of butter and ghee, you can use oil.

http://nithyascorner.com/butter-chicken-masala-recipe/

©www.nithyascorner.com