Egg Biryani Recipe, How to Make Egg Biryani, Muttai Biryani

Egg Biryani Recipe, Muttai Biryani. A flavorful and delicious one-pot meal prepared from basmati rice, boiled eggs and spices using pressure cooker method.
I love biryani a lot. I really do not mind if it is vegetable biryani, egg biryani, Chicken Biryani or Mutton Biryani. Whatever biryani it is, I love it. I don't need any side dish for biryani.
I am so glad that I have some friends who make very good biryani. Whenever they make biryani, they would make extra for us because they know we love biryani a lot. My mom makes very good biryani and all my friends love her biryani. Only a year back, I learn't to make tasty and delicious biryani.
Earlier, when we go to restaurants and order Chicken Biryani, they would serve biryani with only chicken in it. These days, eggs come along with Chicken Biryani, so I think people are not ordering egg biryani much in restaurants.
The Egg Biryani recipe is quite simple, so try it at home and you will definitely like it. Enjoy Egg Biryani!
The other egg and mutton recipes that you might be interested are:
Egg Soyabean Sprouts Fried Rice
Indian Egg Fried Rice
Mutton Biryani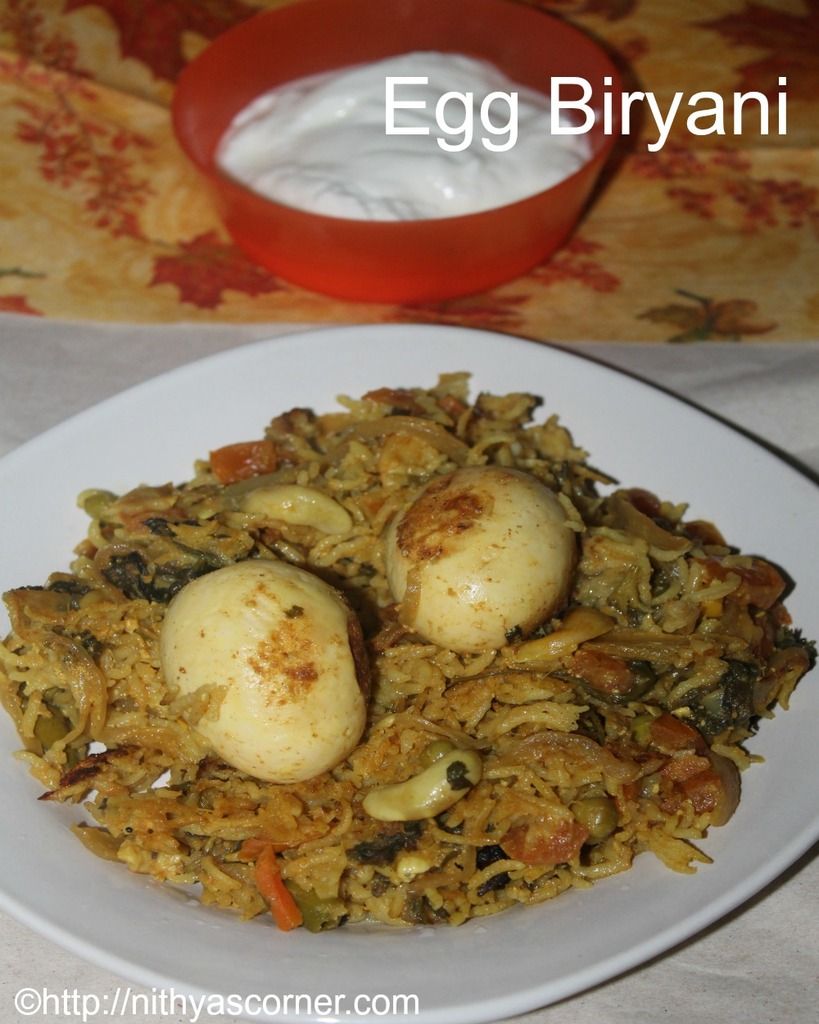 Preparation Time. 20 minutes
Cook Time. 20 minutes
Recipe Category. Main
Recipe Cuisine. Indian
Serves. 5
Ingredients
Basmati Rice – 1 kg
Eggs (boiled) – 6
Carrot – 100gm
Green Peas – 100gm
Onion (sliced) – 2 nos.
Tomatoes (chopped) – 250 gm
Green Chillies (slitted) – 6 nos.
Ginger Garlic Paste – 3 tablespoon
Coconut Milk – 4 cups
Curd – 1 cup + 2 tablespoon
Coriander Leaves (chopped) – handful
Mint Leaves (chopped) – handful
Turmeric Powder – 1/4 teaspoon
Chilli Powder – 2 teaspoon
Cardamom – 3 nos.
Cinnamon – 3 nos.
Cloves – 3 nos.
Cashew Nuts – 15 nos.
Lemon – 1
Salt – as required
Ghee or oil – Almost a cup
Beginners, you might want to refer to the post "How to make boil eggs perfectly".
Note.The ingredients shown will vary with the original quantity.
Preparation
1. Soak basmati rice in water for 15 to 30 minutes. Meantime, heat ghee and roast cashews until golden brown and set it aside.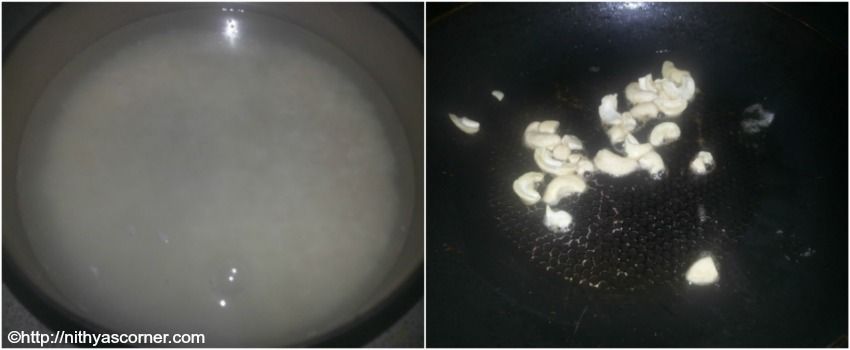 2. In a mixing bowl, add eggs, one teaspoon chilli powder and salt. Sprinkle water, combine the ingredients well, and then marinade the eggs for five minutes.

3. In the same pan in which you fried cashew nuts, roast the eggs until golden brown and set aside. Heat oil or ghee, add cardamom, cinnamon, cloves and let them sizzle. Now add onions.

4. When onions turns transparent, add the ginger garlic paste. Once the raw smell of ginger garlic paste leaves, add the carrot and peas. Saute until the veggies are half-cooked.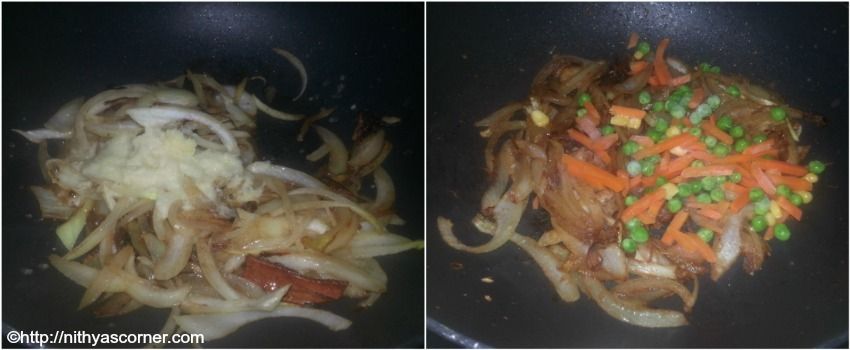 5. Add green chillies, curd, mint leaves, and coriander leaves. Saute for two minutes, and then add tomatoes. Stir well.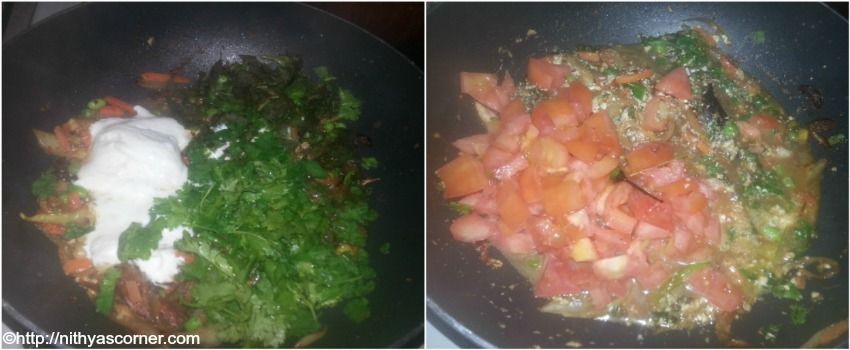 6. Now add chilli powder, turmeric powder, and salt. Add three cups of water and bring it to boil.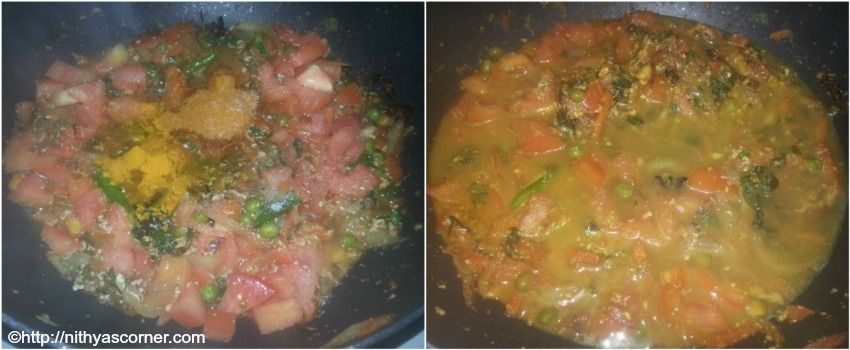 7. Then add four cups of coconut milk and stir well. Add lemon juice.Now add the drained rice and stir well.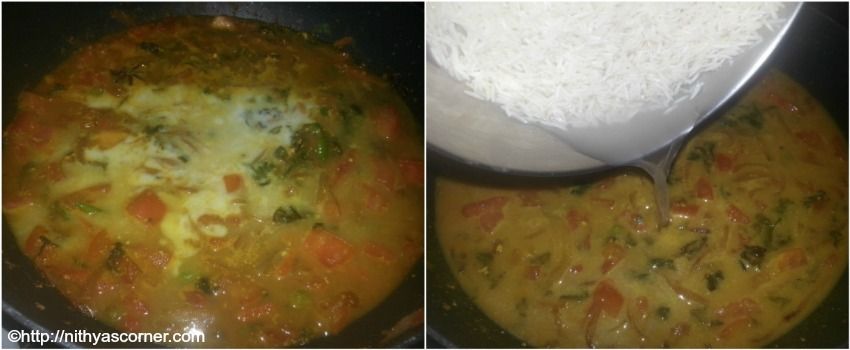 8. Finally add the roasted eggs and cashews. Close the cooker and put weight on it. Cook for five minutes and then bring the cooker down. Once the pressure releases, open the cooker.

Now, Egg Biryani is ready! Serve hot with raita or any gravy.


Egg Biryani Recipe, How to Make Egg Biryani, Muttai Biryani recipe below:


Egg Biryani Recipe | How to Make Egg Biryani | Egg Recipes

Egg Biryani Recipe, Muttai Biryani. A flavorful and delicious one-pot meal prepared from basmati rice, boiled eggs and spices using pressure cooker method.

Ingredients

Basmati Rice – 1 kg
Eggs (boiled) – 6
Carrot – 100gm
Green Peas – 100gm
Onion (sliced) – 2 nos.
Tomatoes (chopped) – 250 gm
Green Chillies (slitted) – 6 nos.
Ginger Garlic Paste – 3 tablespoon
Coconut Milk – 4 cups
Curd – 1 cup + 2 tablespoon
Coriander Leaves (chopped) – handful
Mint Leaves (chopped) – handful
Turmeric Powder – 1/4 teaspoon
Chilli Powder – 2 teaspoon
Cardamom – 3 nos.
Cinnamon – 3 nos.
Cloves – 3 nos.
Cashew Nuts – 15 nos.
Lemon – 1
Salt – as required
Ghee or oil – Almost a cup

Instructions

Soak basmati rice in water for 15 to 30 minutes. Meantime, heat Ghee and roast cashews until golden brown and set it aside. In a mixing bowl, add Eggs, 1 teaspoon chilli powder and salt.
Sprinkle water, combine the ingredients well, and then marinade the Eggs for 5 minutes. In the same in which you fried cashew nuts, roast the Eggs until golden brown and set aside.
Heat oil or Ghee, add cardamom, cinnamon, cloves and let them sizzle. Add onions and when it turns transparent, add the Ginger Garlic Paste. Once the raw smell of ginger garlic leaves, add the carrot and peas. Saute until the veggies are half-cooked.
Add green chillies, Curd, mint leaves, and coriander leaves. Saute for two minutes, and then add tomatoes, chilli powder, turmeric powder, and salt. Stir well.
Add 3 cups of water and bring it to boil. Then add 4 cups of coconut milk and stir well. Add lemon juice.
Now add the drained rice and stir well. Finally add the roasted Eggs and cashews. Close the cooker and put weight on it. Cook for 5 minutes and then bring the cooker down. Once the pressure releases, open the cooker.
Now, Egg Biryani is ready! Serve hot with raita or any gravy.

http://nithyascorner.com/egg-biryani-recipe/

©www.nithyascorner.com