Grape Sorbet Recipe

Grape Sorbet Recipe. A refreshing and delicious summer dessert made with black grapes, sugar and lemon juice.
I started making a variety of sorbet recipes since last year. Last week, when I was thinking about sorbet recipes to post in my blog, I thought I'll post grape sorbet first as it is quite similar to Black Grapes Granita and Grape Popsicle. I liked it a lot as it has less sugar than the store-bought ice creams. Also it gives an utmost satisfaction that we are eating a healthy ice cream that has only grapes and less sugar in it. Hope you and your kids love it!
If you prefer more Ice cream, Popsicle and other Summer Desserts, then you might prefer:
Banana Soft Serve
Banana Ice Cream 
Pineapple Coriander Popsicle
Mango Kulfi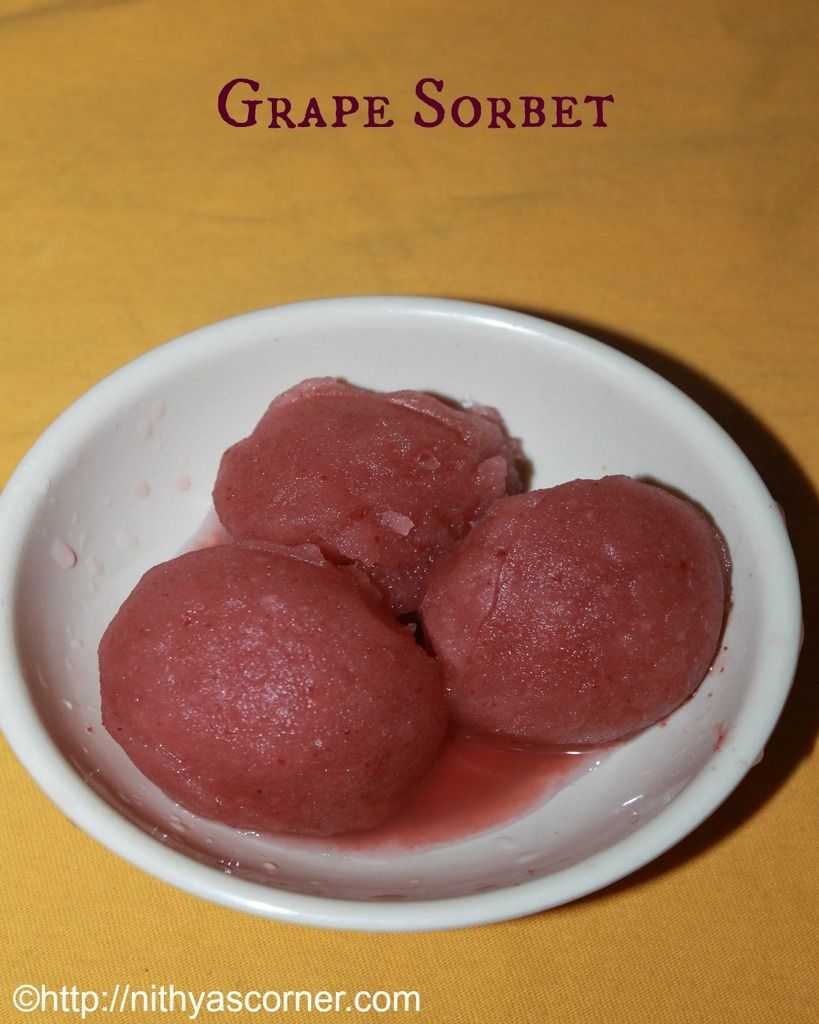 Preparation Time. 5 minutes.
Freeze Time. at least 8 hours or overnight
Recipe Cuisine. World
Recipe Category. Dessert
Serves. 6
Ingredients
Black Grapes (Seedless) – 4 cups
Sugar – 1/4 cup
Lemon Juice (Fresh) – 1 tablespoon
Ice Cubes – 1/4 cup (Optional – If you want to have it right away)
Note. The ingredients shown will vary with the original quantity.
Preparation
1. In a blender, add the grapes along with sugar and lemon juice. Blend until smooth.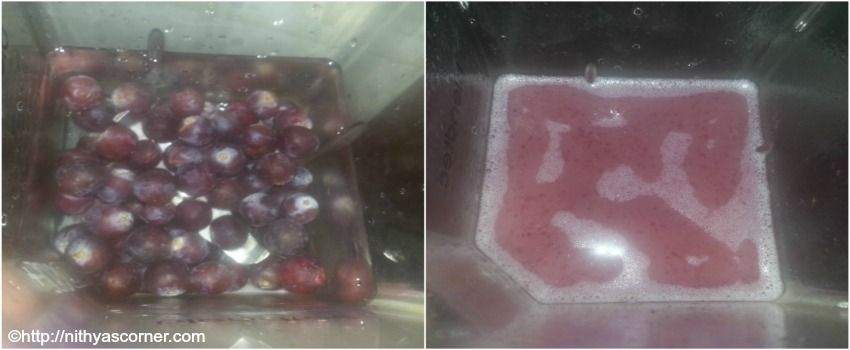 2.  Using a strainer, just strain the juice. Discard the seeds.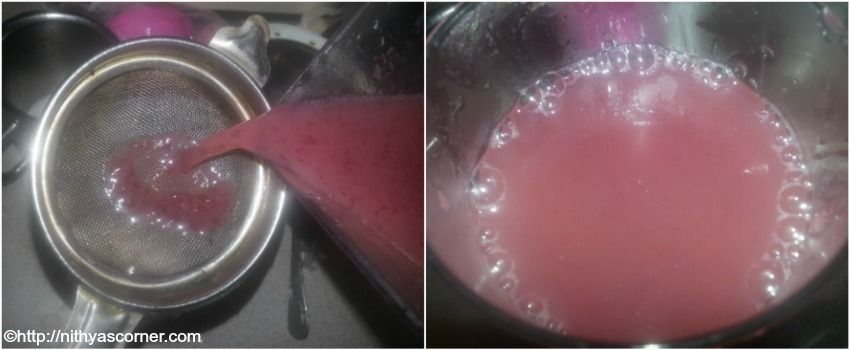 3. Transfer the grape juice to a freezer-safe bowl. Freeze it for at least four hours.Now take it out from the freezer.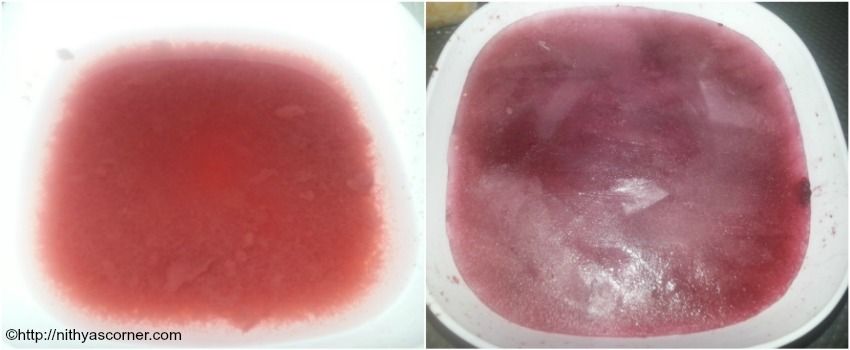 4. Scoop it and blend it smoothly with some ice cubes in a blender. You can have it right away. If you don't want to have it right away, avoid blending it with ice cubes and transfer it to a freezer-safe bowl and freeze it for at least four hours.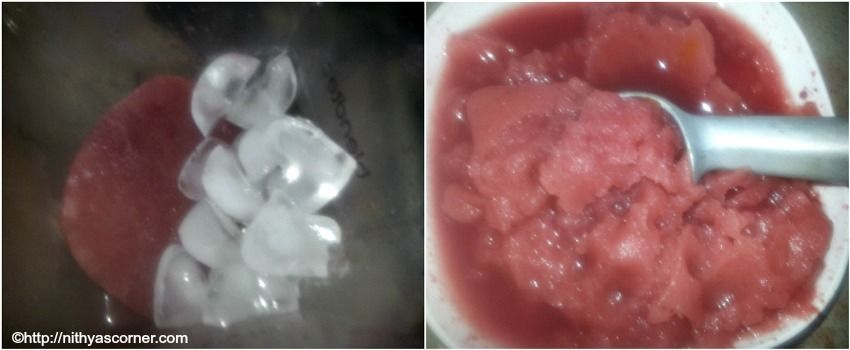 Now, Grape Sorbet is ready. Enjoy!
Notes.
You can freeze the sorbet for up to two weeks.
The sweetness of the grapes depends on the sourness of the grapes. So if you wish, you can add more sugar.
If you want to have the grape sorbet immediately, add ice cubes in the last step while blending it. If you are planning to have it later, avoid ice cubes. Ice cubes would make the sorbet solid.
Grape Sorbet Recipe below:


Ingredients

Black Grapes (Seedless) – 4 cups
Sugar – 1/4 cup
Lemon Juice (Fresh) – 1 tablespoon
Ice Cubes – 1/4 cup (Optional – If you want to have it right away)

Instructions

In a blender, add the grapes along with sugar and lemon juice. Blend until smooth. Using a strainer, just strain the juice. Discard the seeds.
Transfer the grape juice to a freezer-safe bowl. Freeze it for at least 4 hours.
Now take it out from the freezer. Scoop it and blend it smoothly with some ice cubes in a blender. You can have it right away. If you don't want to have it right away, avoid blending it with ice cubes and transfer it to a freezer-safe bowl and freeze it for at least 4 hours.
Now, Grape Sorbet is ready! Enjoy!

Notes

You can freeze the sorbet for up to 2 weeks. The sweetness of the grapes depends on the sourness of the grapes. So if you wish, you can add more sugar. If you want to have the grape sorbet immediately, add ice cubes in the last step while blending it. If you are planning to have it later, avoid ice cubes. Ice cubes would make the sorbet solid.

http://nithyascorner.com/grape-sorbet-recipe/

©www.nithyascorner.com