Homemade rice flour, how to make rice flour at home

Homemade rice flour – Rice flour is an essential ingredient and used for making snacks and savories.
Homemade rice flour is used for making snacks and savories. Rice flour can also make certain dishes crispier and also acts as a thickening agent for certain dishes. I always have them in my pantry. Rice flour are quite easy to make at home.
I make rice flour at home during the festive season and use it throughout the year. Buying a good quality rice flour from store is much easier than the homemade rice flour. At the same time, it would give me immense satisfaction and pleasure to make snacks using homemade rice flour.
Some Recipes that uses Rice Flour:
thattai
nei appam
seepu murukku
ribbon pakoda
Other Basic Flour recipes that you might be interested are:
all purpose flour – gluten-free
bajji, bonda and pakora mix
homemade brown rice flour
homemade urad dal flour

Processing Time. 3 hours
Cook Time. 15 minutes
Recipe Category. Flour
Recipe Cuisine. Indian
Shelf Life. 6 months
Ingredients
Raw rice – 2 cups
Preparation
1. Pick, clean, and rinse the raw rice thrice. Soak it in water at least for one hour. Drain the water completely.

2. Spread a cotton cloth and transfer the soaked rice to the cloth. Spread the rice well on the cloth. Let the rice dry out for about an hour. The rice should be slightly moist, brittle and crisp.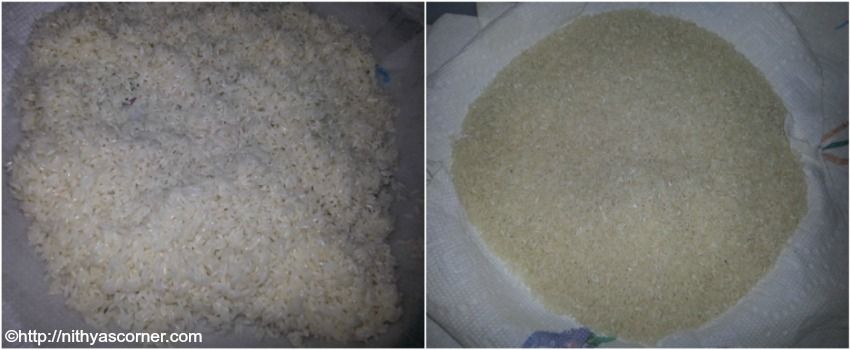 3. Transfer the rice to the blender. Grind the rice until it is super fine powder. It will take about 3 minutes.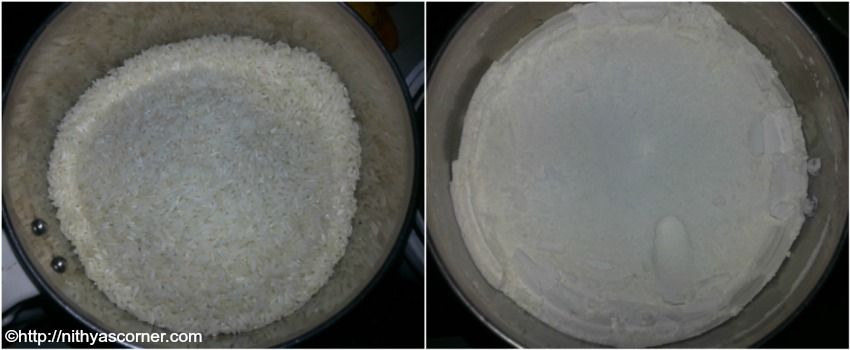 4. Add the rice powder to the fine sieve and sift it to get a super fine rice flour. When you sieve, you will have get slight rava like mixture. Transfer them to blender and grind them along with your next batch of rice and then sieve them again.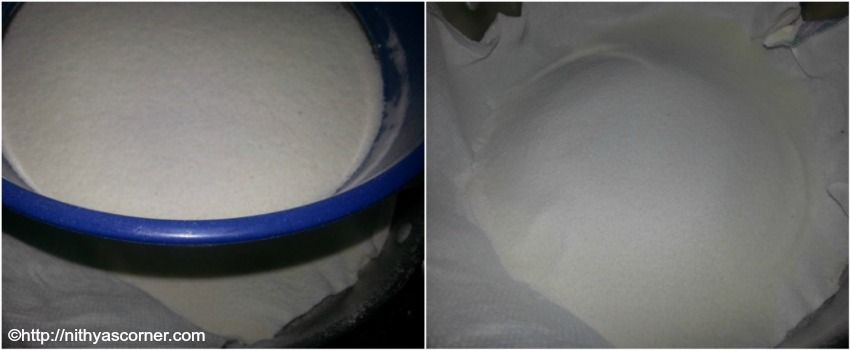 5. In a wide bottomed pan, dry roast the sieved rice flour until you see steaming coming out of it. Then spread it in a newspaper or a large vessel. Let it completely cool down. Once it cools down, transfer the rice to an airtight container.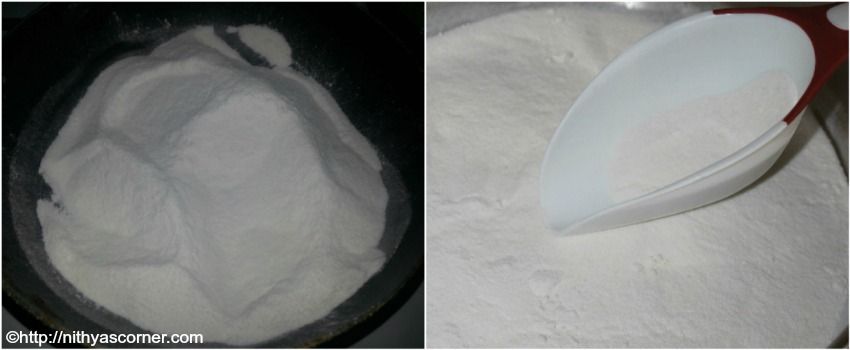 Now the rice flour is ready!
Notes.
If the quantity of the rice exceeds more than a kg, then better grind it in the flour mill.
The drying time of the rice depends on the climate and quantity of rice.
Homemade rice flour recipe below:


Homemade Rice Flour |How to Make Rice Flour at Home

Homemade Rice Flour – Rice Flour is an essential ingredient and used for making snacks and savouries.

Ingredients

Instructions

Pick, clean, and rinse the raw rice thrice. Soak it in water at least for 1 hour. Drain the water completely. Spread a cotton cloth and transfer the soaked rice to the cloth. Spread the rice well on the cloth. Let the rice dry out for about an hour.The rice should be slightly moist.
The rice would be brittle and crisp. Transfer the rice to the blender. Grind the rice until it is super fine powder. It will take about 3 minutes.
Add the rice powder to the fine sieve and sift it to get a super fine rice flour. When you sieve, you will have get slight rava like mixture. Transfer them to blender and grind them along with your next batch of rice and then sieve them again.
In a wide bottomed pan, dry roast the sieved rice flour until you see steaming coming out of it. Then spread it in a newspaper or a large vessel. Let it completely cool down. Once it cools down, transfer the rice to an airtight container.
Now the rice flour is ready!

Notes

If the quantity of the rice exceeds more than a kg, then better grind it in the flour mill. The drying time of the rice depends on the climate and quantity of rice.

http://nithyascorner.com/homemade-rice-flour/

©www.nithyascorner.com