How to cut snake gourd/pudalangai
How to Cut Snake Gourd / Pudalangai. Learn to clean and cut snake gourd/pudalangai easily with pictures.

During my initial days when I was learning to cook, I did not know how to cut certain veggies like snake gourd, bottle gourd etc. If I was in India, my family would have taught me. Here you can learn either from your friends or through books. Usually cookery books don't explain much about how to cut veggies. Since I was studying, I did not find time to learn from my friends. So, I would avoid cooking these precious veggies.
In my place, I do not get good snake gourd/pudalangai. Most of the times, they would be way too short or broken. Skin would be scraped here and there. I would not even feel like buying them. That's why you would not find snake gourd recipes much in my blog. Not anymore!!! I am planning to post some snake gourd recipes in the coming weeks. So, if you are looking for some specific snake gourd recipes, just email me. I will try to make it and post here with pictures.
Only when I started learning to cook seriously, I learned the tips and tricks on how to cut these veggies. When I say tips and tricks, do not get bewildered. Very simple and easy tips that makes your cutting easier. So shall we learn to cut this snake gourd/pudalangai and use it in our Poriyal/Kootu or Sambar?
Ingredient
Snake Gourd/Pudalangai – 1 no.
Preparation
1. Wash the snake gourd and trim the edges. Scrap the skin of the snake gourd and discard them.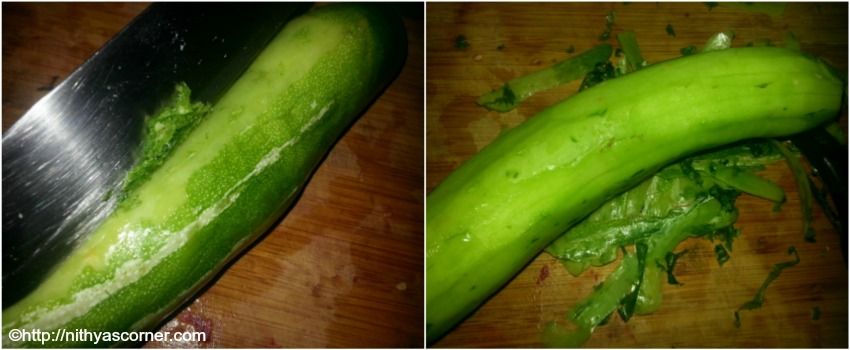 2. Cut the snake gourd into 3 to 4 pieces. Then cut them into half vertically.

3. Now just scrap the white portion (flesh) off. Discard it. Do the same for the remaining pieces. Stack two to three snake gourd pieces and cut them into thin slices.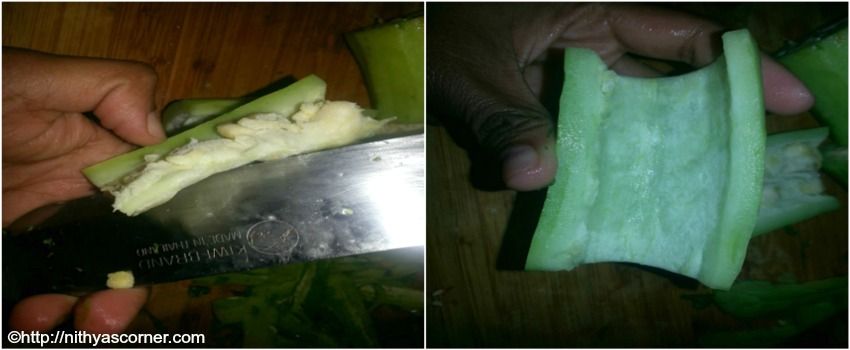 4. Chop them finely. Squeeze out excess water from snake gourd and use it in your cooking.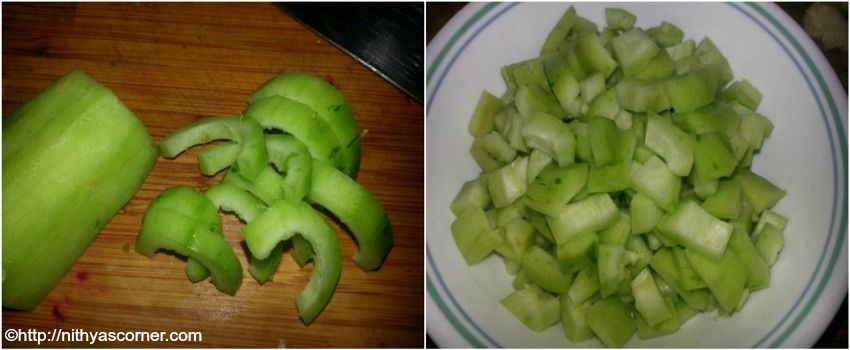 Now, Snake Gourd is ready to be used in your cooking!
Steps to cut snake gourd/pudalangai below:




How to Cut Snake Gourd / Pudalangai

How to Cut Snake Gourd / Pudalangai. Learn to clean and cut snake gourd/pudalangai easily with pictures.

Ingredients

Snake Gourd/Pudalangai – 1 no.

Instructions

Wash the snake gourd and trim the edges. Scrap the skin of the snake gourd and discard them.
Cut the snake gourd into 3 to 4 pieces. Then cut them into half vertically. Now just scrap the white portion (flesh) off. Discard it. Do the same for the remaining pieces.
Stack two to three snake gourd pieces and cut them into thin slices. Then you can again chop them finely. Squeeze out excess water from snake gourd and use it in your cooking.
Now, Snake Gourd is ready to be used in your cooking!

http://nithyascorner.com/how-to-cut-snake-gourd/

©www.nithyascorner.com