Hung curd recipe, yogurt cheese, greek yoghurt recipe

Hung curd recipe, yoghurt cheese, greek yoghurt – Made by straining yogurt/curd in a finely sieved colander or cheesecloth.
Making hung curd is very easy. Hung curd is a great source of calcium and is used as an ingredients in Indian and Middle Eastern recipes. In Indian cuisine, hung curd is used to make tikkas, raitas, dips and some desserts. My most favorite desserts shrikhand and mango shrikhand is made out of hung curd. Though I make curd/yoghurt at home, Gj would sometimes buy greek yogurt from store as he loves the creamy texture of the curd.
For me, I love curd/yoghurt in any form. Hope you all find my hung curd preparation easy. I'll post recipes that uses hung curd in near future.
Some recipes that you could make with hung curd are:
mango shrikhand
shrikhand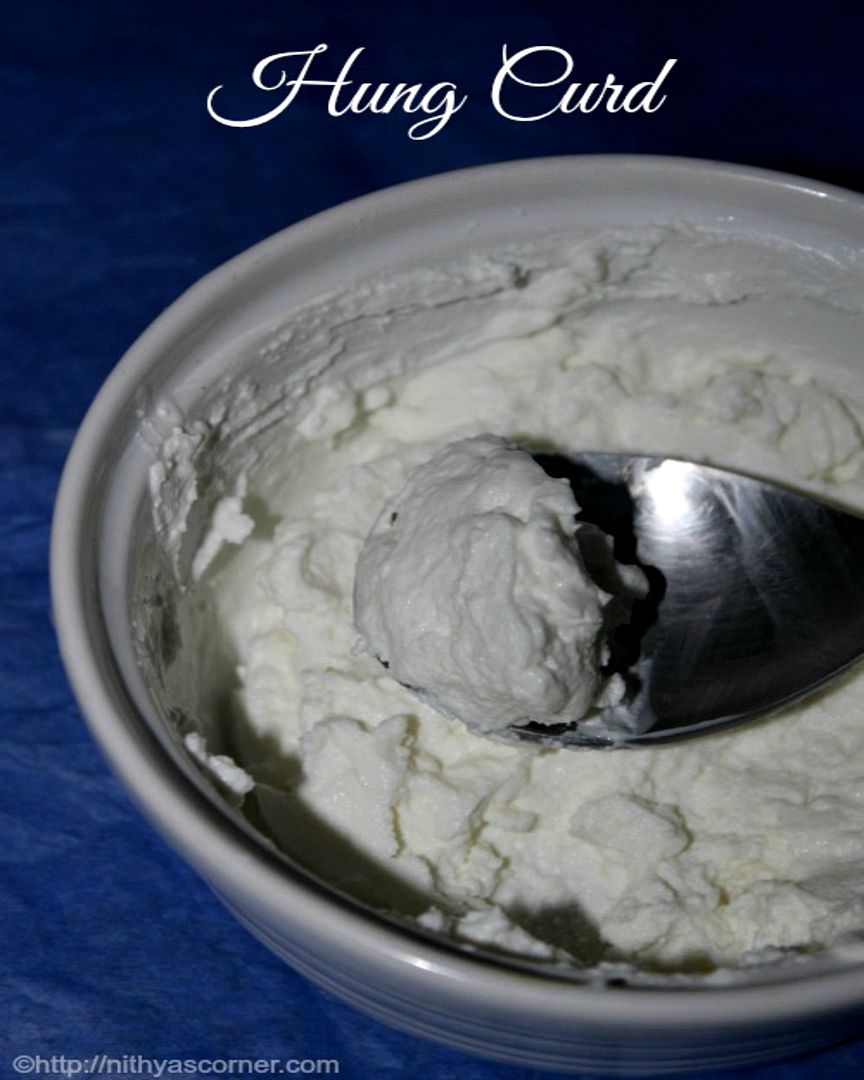 Preparation time. 10 minutes
Make time. Minimum 5 hours
Yield. More than a cup
Shelf life. 4 to 5 days, if refrigerated
Ingredient
Curd/yoghurt/dahi – 2 cups
Preparation
1. Place the curd/yoghurt in a clean muslin or cheesecloth. Gather the ends of the cloth and tie it tightly. Now hang it in such a way that the whey that drips from the curd gets collected in a bowl. I tied the curd at the top of the sink, so that the whey drains over the sink. It will take about 5 hours to drain completely.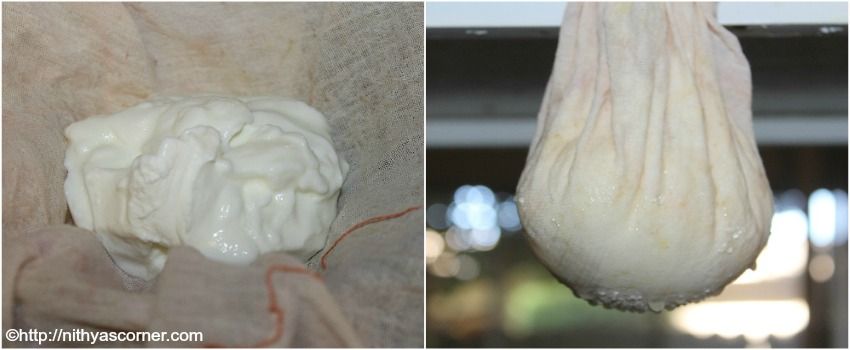 2. Then bring the bundle down. You can even place a weight on the bundle like how you do for cottage cheese/paneer to let even more moisture out. Carefully open the bundle. You will be left out with HUNG CURD.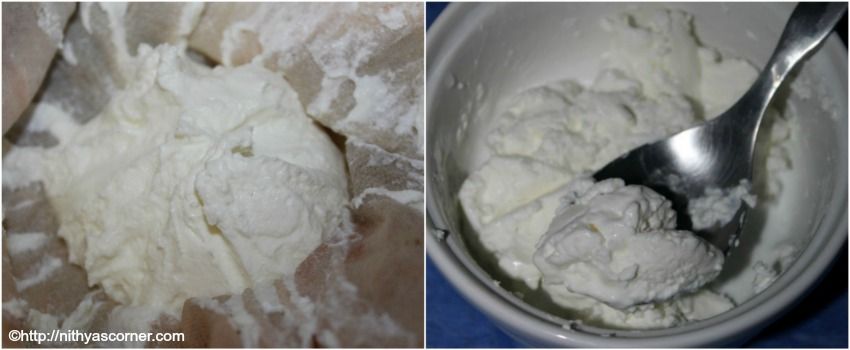 Hung curd is ready! Serve immediately or refrigerate it.

Notes.
Hung curd usually last long with souring.
You can use the collected whey in making rotis. When you add the whey in rice or gravy, you can feel the taste of the whey.
Use fresh curd and avoid sour curd.
If you want a creamy, smooth and rich curd, then allow the curd to drain overnight.
If refrigerated, hung curd will stay good for 4 to 5 days.
Hung curd recipe, yogurt cheese, greek yoghurt recipe below:


How to Make Hung Curd | Yoghurt Cheese Recipe | How to Make Greek Yoghurt

Hung Curd Recipe, Yoghurt Cheese, Greek Yoghurt - Made by straining yogurt/curd in a finely sieved colander or cheesecloth.

Ingredients

Instructions

Place the curd/yoghurt in a clean muslin or cheesecloth. Gather the ends of the cloth and tie it tightly. Now hang it in such a way that the whey that drips from the curd gets collected in a bowl. I tied the curd at the top of the sink, so that the whey drains over the sink. It will take about 5 hours to drain completely. Then bring the bundle down. You can even place a weight on the bundle like how you do for cottage cheese/paneer to let even more moisture out. Carefully open the bundle. You will be left out with HUNG CURD.
Hung Curd is ready! Serve immediately or refrigerate it.

Notes

Hung curd usually last long with souring. You can use the collected whey in making rotis. When you add the whey in rice or gravy, you can feel the taste of the whey. Use fresh curd and avoid sour curd. If you want a creamy, smooth and rich curd, then allow the curd to drain overnight. If refrigerated, hung curd will stay good for 4 to 5 days.

http://nithyascorner.com/hung-curd-recipe/

©www.nithyascorner.com