Kodiveri Fish Fry Recipe

Kodiveri Fish Fry Recipe is a delicious fish fry that can be had as an accompaniment to rice.
I have tried several fish fries at home. I learned this Kodiveri Fish Fry Recipe from Chef Jacob. He used egg in this recipe. I felt it to be different from the rest of the fish fries that I made so far. I used different combination of masala powders and tried out fish fries. This Kodiveri Fish Fry Recipe was far different from the rest of the fish fries.
My husband wanted me to make this fish fry right away. I made the fish masala, and it was quite a loose (dropping) consistency. I thought I have gone wrong somewhere.

When I fried the fish using the masala, it came out very well. I would say 100% perfect and delicious as how it should be. When the fish is soaked in the dropping consistency, egg acts as a binding agent and makes this fish fry a tasty one. Thank you Chef for sharing this tasty fish fry.
Fish lovers, you should definitely try this tasty dish. You will definitely agree with me.
For more fish recipes, you can try out:
Simple Fish Fry/Meen Varuval
Chettinadu Fish Kuzhambu
Fish Kuzhambu
Fish Kuzhambu – Amma's Recipe
Fried Fish With Lemons
Fish Mandarin
Raw Mango Fish Kuzhambu
Preparation Time. 5 minutes
Cook Time. 20 minutes
Recipe Cuisine. South Indian
Recipe Category. Side Dish
Serves. 2
Ingredients
Fish – 5 nos.
Special masala powder – 2 tablespoons
Red chilli powder – 1 tablespoon
Egg – 1 no.
Lemon – 1 no.
Coconut oil – 2 tablespoons
Salt – as desired

Special Masala Powder
Coriander seeds – 4 tablespoons
Curry leaves – 2 sprigs
Black pepper powder – 1 teaspoon
Cumin seeds – 1 teaspoon
Turmeric powder – 1 teaspoon
Raw rice – 1 tablespoon
Note. The ingredients shown will vary with the original quantity.

Preparation
1. In a pan, dry roast coriander seeds, curry leaves, black pepper powder, cumin seeds, and turmeric powder in an order. Fry them until rice turns light golden color. Switch off and let it cool down.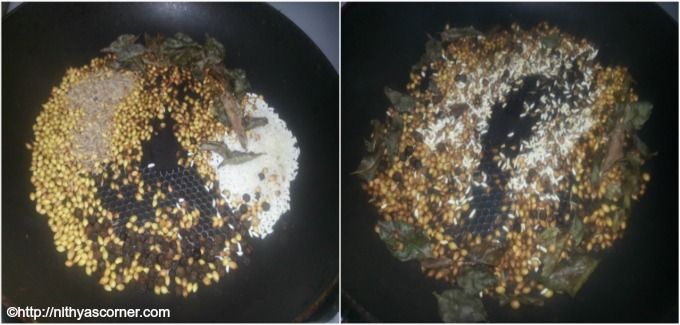 2. Let it cool down and grind them without adding water.

3. In a mixing bowl, add special masala powder, chilli powder, salt, lemon, egg, and water.  Mix well. The mixture should be of dropping consistency.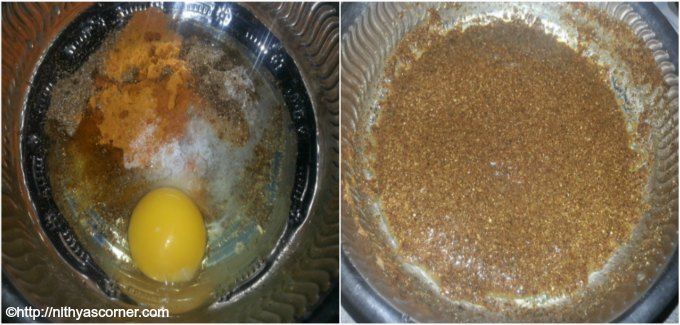 4. Apply paste on the fish pieces and let it marinade for an hour. 
5. In a nonstick pan, heat oil and shallow fry the fishes until the fishes are cooked.

Now, Kodiveri Fish Fry is ready! Serve with curd rice and as an accompaniment to rice dishes. 
Note.
Apply two teaspoons of vinegar or two teaspoons of thick tamarind juice or even juice of half lemon on both the sides of the fish for few minutes. Then, wash the fish. This will help to clean the fish and remove the odor from the fish to a certain extent.
Kodiveri Fish Fry recipe below:




Kodiveri Fish Fry Recipe is a delicious fish fry that can be had as an accompaniment to rice.

Ingredients

Fish – 5 nos.
Special masala powder – 2 tablespoons
Red chilli powder – 1 tablespoon
Egg – 1 no.
Lemon – 1 no.
Coconut oil – 2 tablespoons
Salt – as desired

Special Masala Powder

Coriander seeds – 4 tablespoons
Curry leaves – 2 sprigs
Black pepper – 1 teaspoon
Cumin seeds – 1 teaspoon
Turmeric powder – 1 teaspoon
Raw rice – 1 tablespoon

Instructions

In a pan, without adding oil, add coriander seeds, curry leaves, black pepper, cumin seeds, and turmeric powder in an order. Fry them until rice turns light golden color. Let it cool down and grind them without adding water.
In a mixing bowl, put special masala powder, chilli powder, salt, lemon, egg, and water. Mix well.
Apply paste on the fishes and let it marinade for an hour. In a nonstick pan, put oil and shallow fry the fishes.
Now, Kodiveri Fish Fry is ready!!!

Notes

Apply 2 teaspoons of vinegar or 2 teaspoons of thick tamarind juice or even juice of half lemon on both the sides of the fish for few minutes. Then, wash the fish. This will help to clean the fish and remove the odor from the fish to a certain extent.

http://nithyascorner.com/kodiveri-fish-fry-recipe/

©www.nithyascorner.com