Mango Halwa Recipe

Mango Halwa Recipe. A popular and so delicious sweet made using mango pulp, sugar and ghee.
I love mangoes a lot. This year, I had tried many mango recipes and posted it in my space. Just few days ago, I posted Mango Kesari/Mango Sheera which is quite similar to Mango Halwa except that we don't add semolina in this recipe. Otherwise the preparation is almost the same.
I learned this Mango Halwa recipe from my friend Anitha. She makes it often so asked me to give it a try. My kids just loved this Mango Halwa. The halwa had a right blend of mango and Ghee flavor. It just melts in our mouth.
Beginners who are learning to make sweets can make this Mango Halwa easily. You can make this Halwa in a jiffy. It is super easy to make.
You can even grease a pan with ghee and then pour this mango halwa and let it sit aside for few minutes. Later, you can cut it into desired shapes and serve them. I did not have so much patience as the flavor was so inviting.
Do try this Mango Halwa and let me know how you liked it.
If you are looking for some Mango desserts, then you might refer:
Mango Shrikhand
Mango Cream
Mango Phirni
Mango Kulfi
Mango Lassi
Aamras
Preparation Time. 5 minutes
Cook Time. 15 minutes
Recipe Cuisine. Indian
Recipe Category. Sweet
Serves. 4
Ingredients
Mango (Ripe) – 3 cups
Sugar – 1 cup
Milk – 2 and 1/4 cups
Cardamom Powder – 1/4 teaspoon
Ghee – 1/2 cup
Note. The ingredients shown will vary with the original quantity.
Preparation
1. Peel the mango and roughly chop the mango into pieces and discard the seed. Blend the mango pulp in a mixer until smooth. 
2. In a non-stick or heavy bottomed pan, add the mango puree. On medium low flame, stir well for a minute and then add sugar and milk. Stir well.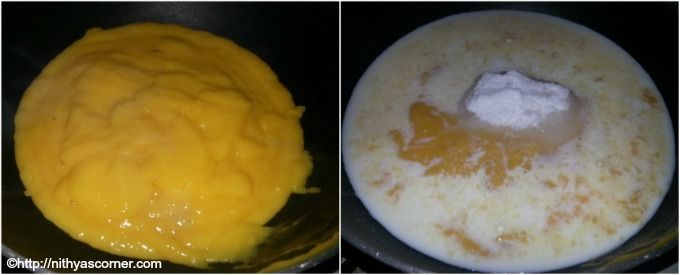 3. When the mango pulp and milk blends well, add half the quantity of ghee and stir well. Meantime, in a teaspoon of ghee, roast the cashew nuts until golden brown and set them aside.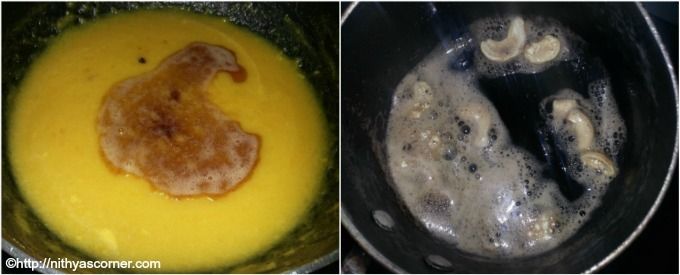 4. Once the mango mixture thickens, add cardamom powder and keep stirring well.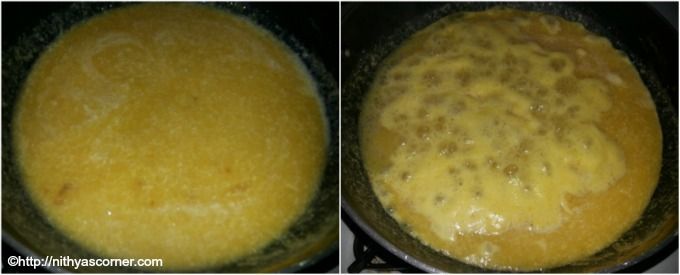 5. Once the mango mixture leaves the sides of the pan, add the roasted cashew nuts along with the remaining ghee and stir well. Switch off.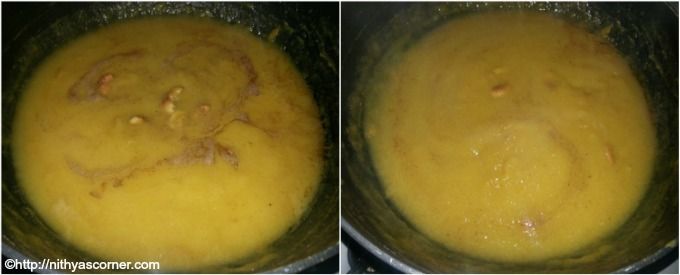 Now, Mango Halwa is ready!
Notes.
Choose sweet, ripe and less fibrous mango. I used Alphonso.
You can grease a plate with ghee and then pour the Mango Halwa on it. After some time, you can cut the Mango Halwa into desired shapes and serve.
You can adjust the quantity of ghee and sugar as per your wish.
Mango Halwa Recipe below:


Mango Halwa Recipe|Easy Mango Halwa

Mango Halwa Recipe. A popular and so delicious sweet made using mango pulp, sugar and ghee.

Ingredients

Mango (Ripe) – 3 cups
Sugar – 1 cup
Milk – 2 and 1/4 cups
Cardamom Powder – 1/4 teaspoon
Ghee – 1/2 cup

Instructions

Peel the mango and roughly chop the mango into pieces and discard the seed. Blend the mango pulp in a mixer until smooth.
In a non-stick or heavy bottomed pan, add the mango puree. On medium low flame, stir well for a minute and then add sugar and milk. Stir well.
When the mango pulp and milk blends well, add half the quantity of ghee and stir well. Meantime, in a teaspoon of ghee, roast the cashew nuts until golden brown and set them aside.
Once the mango mixture thickens, add cardamom powder and keep stirring well.
Once the mango mixture leaves the sides of the pan, add the roasted cashew nuts along with the remaining ghee and stir well. Switch off.
Now, Mango Halwa is ready!

Notes

Choose sweet, ripe and less fibrous mango. I used Alphonso. You can adjust the quantity of ghee and sugar as per your wish. You can grease a plate with ghee and then pour the Mango Halwa on it. After some time, you can cut the Mango Halwa into desired shapes and serve.

http://nithyascorner.com/mango-halwa-recipe/

©www.nithyascorner.com