Potato Salna Recipe, Potato Salna for Parotta

Potato Salna Recipe. A spicy and tasty gravy made with potatoes, onion, tomatoes, and freshly ground spices.
I like Potato Salna recipe very much. I have made it several times for my vegetarian guests. For my non-vegetarian guests, I will make Chicken Salna.
Potato Salna goes well with Pulao, Rotis and Parathas. Potato Salna is a spicy gravy and is very similar to Korma. Kids will also like it so much.
Try this Potato Salna recipe, and I am sure your family will love it.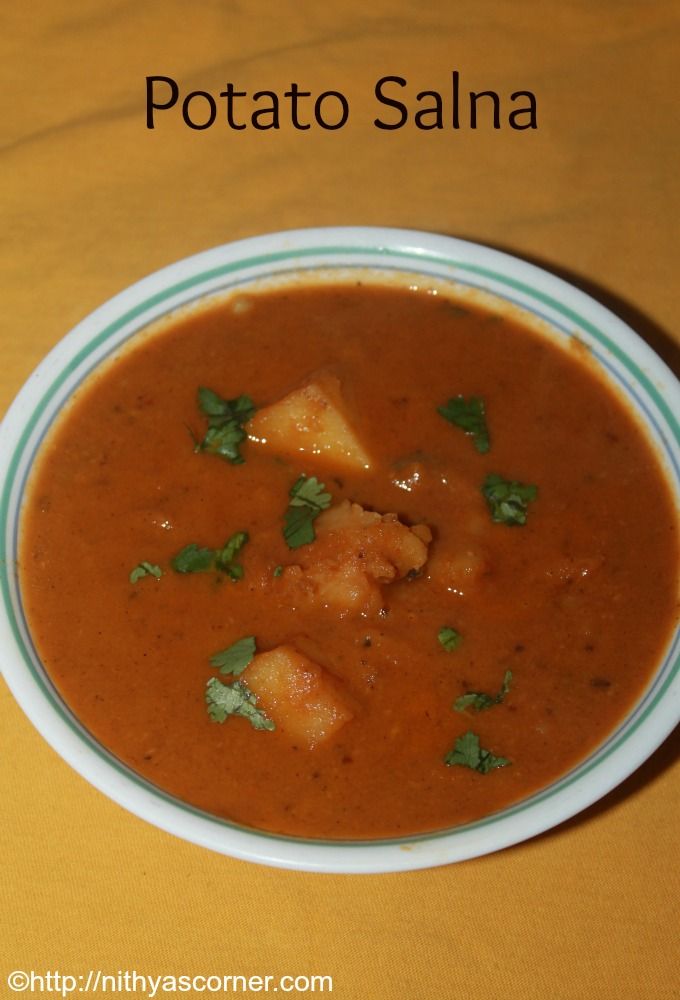 Preparation Time. 10 minutes
Cook Time. 20 minutes
Recipe Cuisine. South Indian
Recipe Category. Curry
Serves. 4
Ingredients
Potato – 4 nos.
Chilli Powder – 1 teaspoon
Turmeric Powder – 1/2 teaspoon
Lemon Juice – A pinch
Coriander Leaves – For garnishing
Salt – As required
Dry Roast & Grind
Fennel Seeds/ Sombu – 1 teaspoon
Cumin Seeds/ Jeera – 1 teaspoon
Peppercorns/ Milagu – 1 teaspoon
Red chillies/ Kanja Molaga – 4 nos.
Cinnamon/Pattai – 1/2
Masala
Chop, roast and grind the following ingredients in two teaspoons of oil.
Onion- 1
Garlic – 5 pods
Ginger – 1/2
Tomato – 1 no.
Coconut – 1/4 to 1/2 cup
Note. The ingredients shown will vary with the original quantity.
Preparation
1. Marinade potatoes using turmeric powder, chilli powder, lemon juice and salt for 30 minutes. In a pan, dry roast (without adding oil) fennel seeds, cumin seeds, peppercorns, red chillies and cinnamon. Set it aside to cool down.

2. In a pan, heat two teaspoons of oil and then saute onions. Then add ginger and garlic. Once onions turn transparent, add the chopped tomatoes. 
3. Once tomatoes turn little mushy, add the coconut and saute it for a minute or so. Switch off and let it cool down.
4. One the onion tomato mixture cools down, grind it to a smooth paste without adding water. Now add the dry roasted spices and grind it until smooth.
5. Keep the ground mixture aside. Heat oil in cooker and fry the potatoes for 2- 3 mins.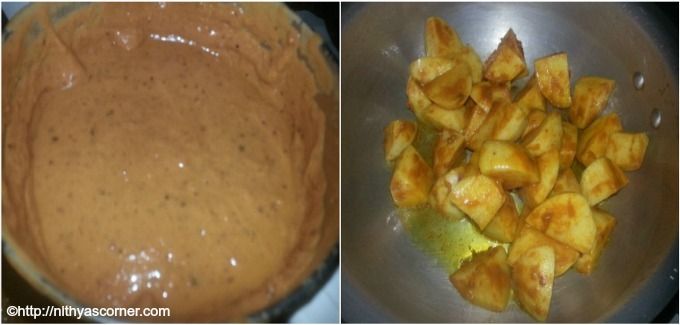 6. Add the ground mixture and salt. Mix well and saute for two minutes. Add 1.5 cups of water and pressure cook for two whistles. Once the pressure releases, add chopped coriander leaves. Finally, give a quick stir.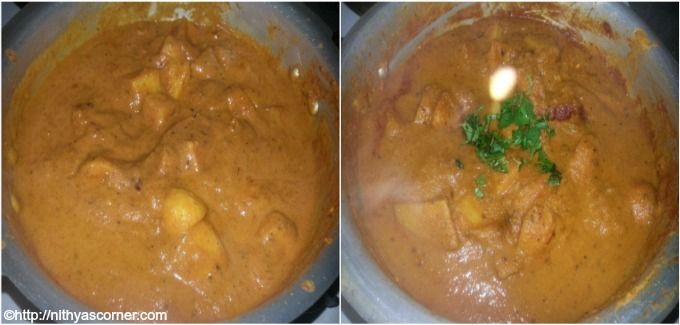 Now, Potato Salna is ready! Serve with Pulao, Parotta and Rotis.
Potato Salna Recipe, Potato Salna for Parotta recipe below:


Potato Salna Recipe | Potato Salna for Parotta

Potato Salna Recipe. A spicy and tasty gravy made with potatoes, onion, tomatoes, and freshly ground spices.

Ingredients

Potato – 4 nos.
Chili Powder – 1 teaspoon
Turmeric Powder – 1/2 teaspoon
Lemon Juice – A pinch
Coriander Leaves – For garnishing
Salt – As required

Dry Roast & Grind

Fennel Seeds/ Sombu – 1 teaspoon
Cumin Seeds/ Jeera – 1 teaspoon
Peppercorns/ Milagu – 1 teaspoon
Red chillies/ Kanja Molaga – 4 nos.
Cinnamon/Pattai – 1/2

Masala

Chop, roast and grind the following ingredients in two tsp oil.
Onion- 1
Garlic – 5 pods
Ginger – 1/2
Tomato – 1 no.
Coconut – 1/4 to 1/2 cup

Instructions

Marinade potatoes using turmeric powder, chilli powder, lemon juice and salt for 30 minutes. In a pan, dry roast (without adding oil) fennel seeds, cumin seeds, peppercorns, red chillies and cinnamon. Set it aside to cool down.
In a pan, heat two teaspoons of oil and then saute onions. Then add ginger and garlic. Once onions turn transparent, add the chopped tomatoes.
Once tomatoes turn little mushy, add the coconut and saute it for a minute or so. Switch off and let it cool down.
One the onion tomato mixture cools down, grind it to a smooth paste without adding water. Now add the dry roasted spices and grind it until smooth.
Keep the ground mixture aside. Heat oil in cooker and fry the potatoes for 2- 3 mins.
Add the ground mixture and salt. Mix well and saute for two minutes. Add 1.5 cups of water and pressure cook for two whistles. Once the pressure releases, add chopped coriander leaves. Finally, give a quick stir.
Now, Potato Salna is ready! Serve with Pulao, Parotta and Rotis.

http://nithyascorner.com/potato-salna-recipe/

©www.nithyascorner.com