Rasmalai Recipe, How to Make Rasmalai

Rasmalai Recipe – A popular and lip-smacking Indian delicacy where spongy cottage cheese balls aka rasgullas are soaked in thickened and sweetened milk.
Whenever I hear the word Rasmalai, my mouth would start watering. Rasmalai has such a heavenly taste. Few years ago, I never knew Rasmalai and Rasgullas are so easy to make.
My friend Vanitha motivated me to try them at home. Only then I gave it a shot. Rasgullas came out very well – soft and fluffy. I was jumping out of joy. Then she asked me to try Rasmalai. I said I will but I took almost three years to try Rasmalai.
Today I can confidently say that I can make yummy and delicious Rasmalai. I have made three to four versions of Rasmalai. I will share them one by one here.
This version is the traditional Rasmalai recipe that I learned from my close friend Anitha. It is simple and easy to make. You have to bring the milk to boil and wait until it gets reduced to half the quantity. You can add nuts like almonds, pistachios, and cashew nuts to the simmering milk.
Try it out and I am sure you will love it.

Preparation Time. 30 minutes
Cook Time. 20 minutes
Recipe Cuisine. North Indian
Recipe Category. Sweets
Serves. 2
Ingredients
Rasgullas – 12 nos.
Milk – 4 cups
Condensed Milk – 5 tablespoon
Sugar – 1/2 cup
Cardamom Powder/Elakka – 1/2 teaspoon
Nuts – Pista, Cashew Nuts, Almonds (Chopped) – 3 tablespoon
Saffron – 5 strands
Ghee – 1 teaspoon
Note. The ingredients shown will vary with the original quantity.
Preparation
1. In a small bowl, add saffron strands to three teaspoon of warm milk and crush it. Set it aside. Saffron will dissolve in milk and the milk would turn yellow in color.
2. In a heavy bottomed pan and under medium flame, bring milk to a boil. Add condensed milk, stir well and let it thicken until it gets reduced to half. Keep stirring in between. If milk solids form at the sides, scrap them and add it to the simmering milk. Then add the saffron milk and stir well.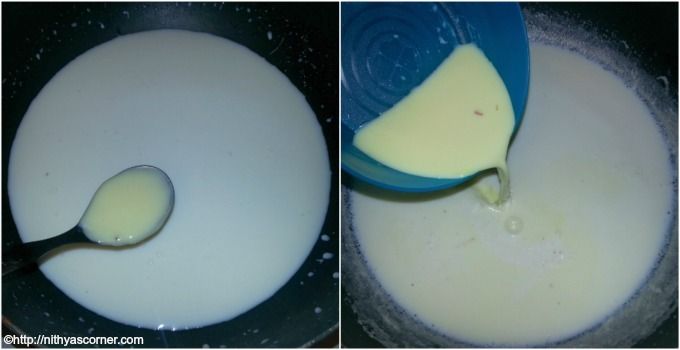 3. Add sugar and mix well so that the sugar dissolves. Meantime, heat ghee in a small pan and then roast the chopped nuts until golden brown.
4. Once the nuts turn golden brown, add the nuts and cardamom powder to the simmering milk and give a quick stir.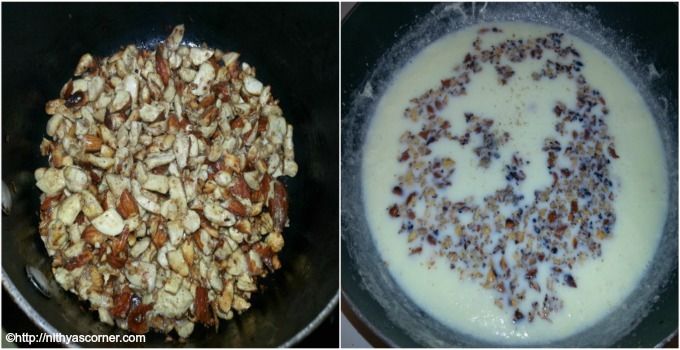 5. Now add the Rasgullas to the simmering milk and let it cook in low flame for five minutes so that the rasgullas could absorb the milk. Switch off. Let Rasmalai come to a room temperature. Chill Rasmalai and garnish with sliced roasted nuts.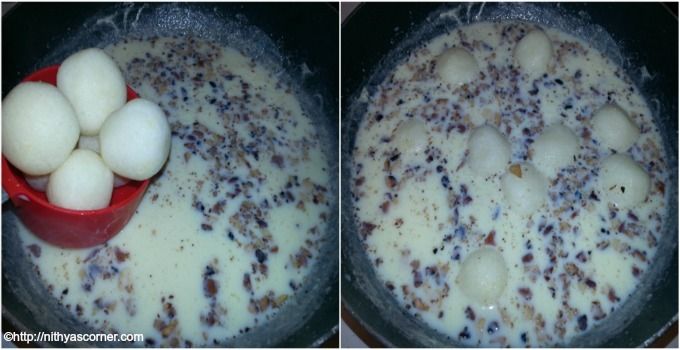 Now, Rasmalai is ready! Serve them chill or at room temperature.
Notes.
Condensed milk adds a rich flavor and creamy texture to Rasmalai.
You can also add the sugar syrup that comes with the store bought Rasgullas instead of sugar.
Rasmalai Recipe, Kesar Rasmalai recipe below:


Rasmalai Recipe| How to Make Rasmalai

Rasmalai Recipe – A popular and lip-smacking Indian delicacy where spongy cottage cheese balls aka rasgullas are soaked in thickened and sweetened milk.

Ingredients

Rasgullas – 12 nos.
Milk – 4 cups
Condensed Milk – 5 tablespoon
Sugar – 1/2 cup
Cardamom Powder/Elakka – 1/2 teaspoon
Nuts – Pista, Cashew Nuts, Almonds (Chopped) – 3 tablespoon
Saffron – 5 strands
Ghee – 1 teaspoon

Instructions

In a small bowl, add saffron strands to three teaspoon of warm milk and crush it. Set it aside. Saffron will dissolve in milk and the milk would turn yellow in color.
In a heavy bottomed pan and under medium flame, bring milk to a boil. Add condensed milk, stir well and let it thicken until it gets reduced to half. Keep stirring in between. If milk solids form at the sides, scrap them and add it to the simmering milk. Then add the saffron milk and stir well.
Add sugar and mix well so that the sugar dissolves. Meantime, heat ghee in a small pan and then roast the chopped nuts until golden brown.
Once the nuts turn golden brown, add the nuts and cardamom powder to the simmering milk and give a quick stir.
Now add the rasgullas to the simmering milk and let it cook in low flame for five minutes so that the rasgullas could absorb the milk. Switch off. Let Rasmalai come to a room temperature. Chill Rasmalai and garnish with sliced roasted nuts.
Now, Rasmalai is ready! Serve them chill or at room temperature.

Notes

Condensed milk adds a rich flavor and creamy texture to Rasmalai. You can also add the sugar syrup that comes with the store bought Rasgullas instead of sugar.

http://nithyascorner.com/rasmalai-recipe/

©www.nithyascorner.com