Vada Recipe, Medhu Vada, Easy Vada Recipe

Vada Recipe – A famous South Indian snack made with urad dal served as a snack or even at breakfast with Idli or Pongal.
I wanted to post the Vadai recipe for a long time. This is a basic recipe of Medhu Vadai. During festivals, when I don't find enough time to make other recipes, I make this Vada. I love Pongal and Idly vada combination so much.
This vada tastes so good for the Sambar Vada and Curd Vada recipe. You can also add onions and curry leaves etc. to make the vada more tastier. I made this Vada for Vinayagar Chathurthi and was a block buster in our family. Try this Vada Recipe and you'll love it.
Other Vada recipes hat you might be interested:
Mint Vada
Vazhaipoo Vadai
Preparation Time. 10 minutes
Soak Time. 1/2 hour
Cook Time. 15 minutes
Recipe Cuisine. Indian
Recipe Category. Snack
Serves. 15 nos.
Ingredients
Urad dal – 1.5 cups
Coconut (grated) – 1 cup
Coconut pieces – 2 teaspoon
Green Chillies (chopped) – 4 to 6 nos.
Curd/yogurt – 1 tablespoon
Pepper powder – 1 tablespoon
Asafoetida (perungayam) – 1 pinch
Salt – as desired
Oil – to deep fry
Note. The ingredients shown will vary with the original quantity.
Preparation
1. Soak urad dal for 3o minutes. Grind urad dal, coconut and green chillies to a thick paste. The batter should be light, smooth and fluffy.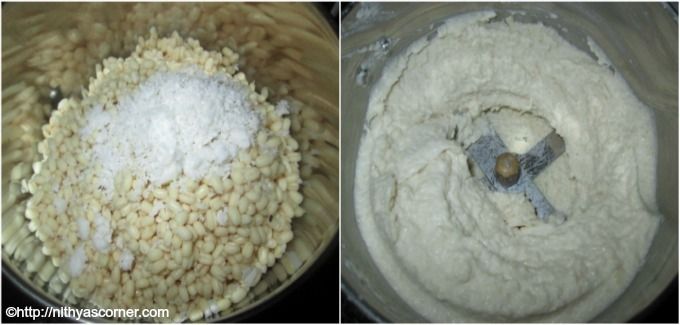 2. Add curd, salt, asafetida, coconut pieces, and pepper powder. Combine well.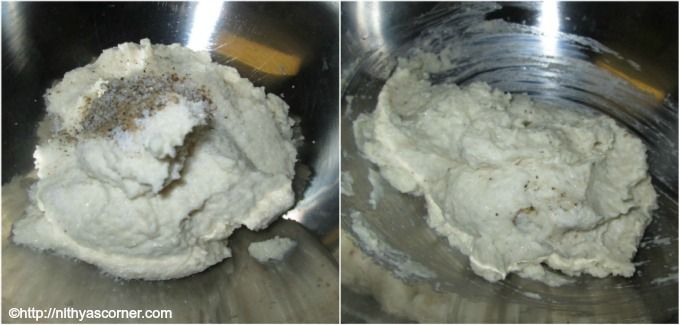 3. Take a plastic sheet like Ziploc and place the urad dal batter on it. Then flatten it.

4. Now make a hole in the center of the vada. Heat oil in medium-high flame for deep frying the Vada. Now slowly tilt the vada upside down from the plastic sheet and drop it in the hot oil. Follow the same procedure for the remaining vadas. Wet your hands now and then before making balls to avoid stickiness.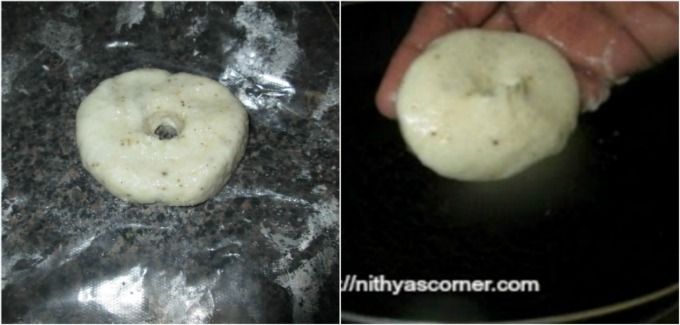 5. Fry vadas until they turn golden brown.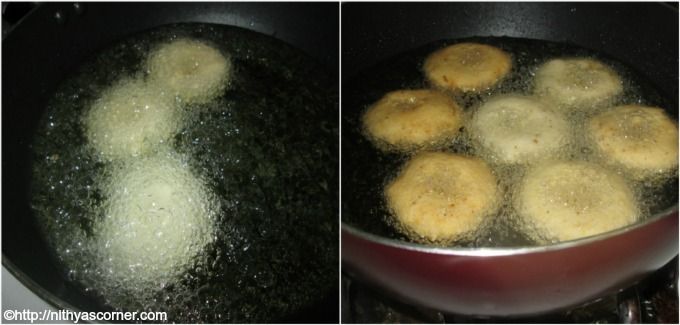 6. Once the vadas turn golden brown on both the sides, take them out and drain them in a tissue paper to remove excess oil.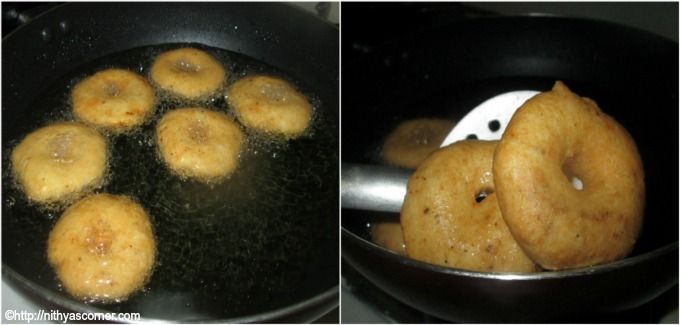 Now, the Vada are ready!
Notes.
Instead of plastic sheet, you could also use banana leaf for making hole in the center of the Vada.
If you are using mixie, grind the urad dal mixture in the pulse mode.
If you are making a large quantity of vadas, then use the grinder if not your mixie will get overheated while grinding and vadas will not turn fluffy. Add water little by little when you grind the batter in the grinder.
If your batter is watery then add a tablespoon of rice flour to it.
If your vadas drink a lot of oil, then it means your vada batter is very watery.
Make sure you do not overgrind the Vadas or else they will turn rubbery.
Wet your hands now and then before making balls to avoid stickiness. Once you master it, then you can drop the vadas directly into the oil without using any sheets.
This is a basic vada recipe. You can go ahead and add onions, curry leaves etc. to make them more flavorful. If in case, you are adding onions, deep fry them immediately or else the batter will start becoming watery because of the onions.
Always fry Vadas in medium-high flame instead of high flame otherwise your Vadas will be cooked outside and not inside.
Do not soak the urad dal for too long, the vadas might turn hard.
FAQ
1. My batter is watery. How do I correct it?
Add a tablespoon of all purpose flour or rice flour or gram flour to the dal batter. My first choice would always be the rice flour. If you don't have rice flour at home, then go for other choices. If your batter is watery, it will drink lot of oil.
2. My Vadas are very sticky and turns rubbery/not fluffy once cooked?
If the batter is sticky, you'll not be able to shape and make hole on them. Your dal batter might have been over grinded. Refrigerate it for an hour or so and then make them after an hour. Vadas would turn quite better now.

Vada Recipe, Medhu Vada, Easy Vada Recipe below:


Vada Recipe | Medhu Vada| Easy Vada Recipe

Vada Recipe – A famous South Indian snack made with urad dal served as a snack or even at breakfast with Idli or Pongal.

Ingredients

Urad dal – 1.5 cups
Coconut (grated) – 1 cup
Coconut pieces – 2 teaspoon
Green Chillies (chopped) – 4 to 6 nos.
Curd/yogurt – 1 tablespoon
Pepper powder – 1 tablespoon
Asafoetida (perungayam) – 1 pinch
Salt – as desired
Oil – to deep fry

Instructions

Soak urad dal for 30 minutes. Grind urad dal, coconut and green chillies to a thick paste. The batter should be light, smooth and fluffy.
Add curd, salt, asafetida, coconut pieces, and pepper powder. Combine well. Heat oil in medium-high flame for deep frying the Vada.
Take a plastic sheet like Ziploc and place the urad dal batter on it. Then flatten it and make a hole in the center of the vada.
Now slowly tilt the vada upside down from the plastic sheet and drop it in the hot oil. Follow the same procedure for the remaining vadas. Wet your hands now and then before making balls to avoid stickiness.
Once the vadas turn golden brown on both the sides, take them out and drain them in a tissue paper to remove excess oil.
Now, the Vada are ready!

Notes

Instead of plastic sheet, you could also use banana leaf for making hole in the center of the Vada. If you are using mixie, grind the urad dal mixture in the pulse mode. If you are making a large quantity of vadas, then use the grinder if not your mixie will get overheated while grinding and vadas will not turn fluffy. Add water little by little when you grind the batter in the grinder. If your batter is watery then add a tablespoon of rice flour to it. If your vadas drink a lot of oil, then it means your vada batter is very watery. Make sure you do not overgrind the Vadas or else they will turn rubbery. Wet your hands now and then before making balls to avoid stickiness. Once you master it, then you can drop the vadas directly into the oil without using any sheets. This is a basic vada recipe. You can go ahead and add onions, curry leaves etc. to make them more flavorful. If in case, you are adding onions, deep fry them immediately or else the batter will start becoming watery because of the onions. Always fry Vadas in medium-high flame instead of high flame otherwise your Vadas will be cooked outside and not inside. Do not soak the urad dal for too long, the vadas might turn hard.

http://nithyascorner.com/vada-recipe/

©www.nithyascorner.com