Ven Pongal, Khara Pongal, Ghee Pongal, Milagu Pongal

Ven Pongal, Khara Pongal, Ghee Pongal, Milagu Pongal. A popular and regular breakfast in South India made using moong dal and rice.
My mom makes Ven Pongal on Saturdays for breakfast. Accompaniments would be Tiffin Sambar and Coconut Chutney,  and I love this combination. If Coconut Chutney is served, then I would have more Ven Pongal.
When we lived in Delaware, there was a near-by restaurant where pongal would be very tasty. They serve Ven Pongal with Tiffin Sambar, Coconut Chutney, Mint Chutney and also with Medhu Vadai and Masala Vada. Ven Pongal will have a divinely taste. We go on Sunday's and have a good and heavy breakfast. What more can you ask on Sunday mornings?
Gj is not a big fan of Ven Pongal, so whenever I have guests at home, I will make this Ven Pongal along with Tiffin Sambar, Coconut Chutney and Vada. They will also love to eat this Ven Pongal hot with vadas.
I prefer to add Ghee and more ginger juliennes when I make Ven Pongal. It is an easy breakfast to make when you have guest at home. Try this simple and ever-so-popular South Indian dish Ven Pongal!

Preparation Time. 5 minutes
Cooking Time. 20 minutes
Recipe Cuisine. South Indian
Recipe Category. Breakfast
Serves. 4
Ingredients
Rice – 1 cup
Moong dal/payatham paruppu – 1/3 cup to 1/2 cup
Ghee – 2 tablespoons
Salt – as desired
Water – 5 cups
Ginger (grated or minced) – 1 tablespoon
Curry leaves – 1 sprig
Milk – 1/2 cup
To Season
Peppercorns or black pepper powder – 1.5 teaspoons
Cumin seeds/seeragam – 1 teaspoon
Cashew nuts- 1 to 2 tablespoons
Note. The ingredients shown will vary with the original quantity.
Preparation
1. Wash rice and moong dal. In a cooker, add rice, moong dal and water.

2. Put the vent weight and cook for three whistles. Once the pressure releases, open the cooker.

3. Now add salt, curry leaves, ginger, and milk. Stir well.
4. In a pan, heat ghee in low flame and add peppercorns or black pepper powder, cumin seeds, and cashew nuts. Roast until cashew nuts turn golden brown. 
5. Add the roasted cashew nuts, peppercorns, cumin seeds and few drops of ghee to the pongal and give a quick stir. Switch off.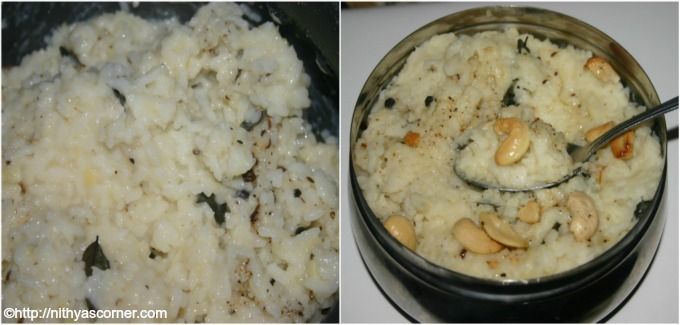 Now, Ven Pongal is ready! Serve Ven Pongal with Coconut Chutney, Sambar and Masal Vada.

Notes.
You can also add cumin powder instead of adding it as whole.
The more the ghee, the more tastier the pongal would be.
Pongal should be in a loose state and eat hot if not it would become thick and hard after some time.
If you want your pongal to look yellowish, add a pinch of turmeric powder.
If you are cooking directly on the cooker, reduce the water, put the vent weight and cook in low heat.
For extra flavor, you could also roast the moong dal.
Soaking moong dal and rice helps in cooker faster.
You can also use parboiled rice, ponni rice and sona masoori.
You can also make the ration of rice and dal as 2:1 (rice 2 cups and dal 1 cup)
If you do not like tasting peppercorns while eating pongal, add black pepper powder. Pepper powder enhances the taste of pongal.
You can also use a tablespoon of dalda and a tablespoon of Ghee instead of making pongal completely using ghee. Pongal will still taste good.
If the pongal is too watery when you open the cooker, cook for some more time until you get a desired consistency. If the pongal becomes very thick, add some more milk and cook for some time.
Ven Pongal, Khara Pongal, Ghee Pongal, Milagu Pongal recipe below:




Ven Pongal| Khara Pongal| Ghee Pongal| Milagu Pongal

Ven Pongal, Khara Pongal, Ghee Pongal, Milagu Pongal. A popular and regular breakfast in South India made using moong dal and rice.

Ingredients

Rice – 1 cup
Moong dal/payatham paruppu – 1/3 cup to 1/2 cup
Ghee – 2 tablespoons
Salt – as desired
Water – 5 cups
Ginger (grated or minced) – 1 tablespoon
Curry leaves – 1 sprig
Milk – 1/2 cup

To Season

Peppercorns or black pepper powder – 1.5 teaspoons
Cumin seeds – 1 teaspoon
Cashew nuts- 1 to 2 tablespoons

Instructions

Wash rice and moong dal. In a cooker, put rice, moong dal and water. Put the vent weight and cook for 3 whistles.
Now, open the cooker and add salt, curry leaves, ginger, and milk.
In a pan, heat ghee. Add peppercorns or black pepper powder, cumin seeds, and cashew nuts. When cashew nuts become light golden color, add it to the pongal. Add few drops of ghee on top of the pongal.
Now, Ven Pongal is ready! Serve Ven Pongal with Coconut chutney, Sambar and Masal Vada.

Notes

Do not overcook the cumin seeds as it will spoil the taste of pongal. You can also add cumin powder instead of adding it as whole. The more the ghee, the more tastier the pongal would be. Pongal should be in a loose state and eat hot if not it would become thick and hard after some time. If you want your pongal to look yellowish, add a pinch of turmeric powder. If you are cooking directly on the cooker, reduce the water, put the vent weight and cook in low heat. For extra flavor, you could also roast the moong dal. Soaking mooing dal and rice helps in cooker faster. You can also use parboiled rice, ponni rice and sona masoori. You can also make the ration of rice and dal as 2:1 (rice 2 cups and dal 1 cup) If you do not like tasting peppercorns while eating pongal, add black pepper powder. Pepper powder enhances the taste of pongal. You can also use 1 tablespoon of dalda and 1 tablespoon of ghee instead of making pongal completely using ghee. Pongal will still taste good. If the pongal is too watery when you open the cooker, cook for some more time until you get a desired consistency. If the pongal becomes very thick, add some more milk and cook for some time.

http://nithyascorner.com/ven-pongal/

©www.nithyascorner.com